Recently I visited a friend who has a small children and I noticed on her fridge was heaps of different calendars and in amongst all that was my meal plan!  I asked her if she used it and she said yes every night - but I have to go hunting for it amongst all this (pointing to the other calendars that had meetings, after school things etc).
It got me thinking .... and with a little working together this is the end result!  A 4 week plan that you can print out (laminate if you love to :D) and then use with the family events & still know what you're having for dinner!
Check back here to fill in your calendar and then find links directly to the recipes!
To use click the image above and a printable/downloadable image will appear.  Simply print or download and print to use.
FOR PREVIOUS THERMOFUN MEAL PLANS – CLICK HERE
January 2018
 SAUSAGE, APPLE & SAGE PASTRY BRAID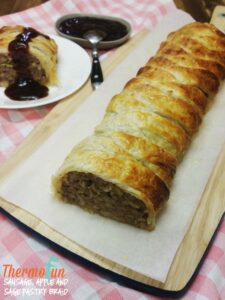 CHICKEN WITH CREAMY CORIANDER LIME SAUCE

Enjoy your month of ThermoFun cooking!   If your family enjoyed a meal, please consider leaving a comment on the recipe as it's always exciting to see what recipes everyone has loved but also helps those that might not have tried it to give it a go!
Click Here for more great recipes in a number of e-cookbooks – containing recipes to suit everyone.
SaveSave
SaveSave
SaveSave
SaveSave