There are times when you are really scraping the bottom of the barrel before shopping and just think to yourself what the heck am I cooking for dinner! This thermomix Ham & Mushroom Penne Carbonara is the perfect go to dish!  With the simplest of ingredients you are sitting the family down to a delicious and hearty dish that fills the bellies and saves that mad dash to the shops before your next big shopping day!
With a hint of mustard and the creamy carbonara taste you won't go wrong with this dish!  It's also a great take to work for lunch as well.
If you are low carbing you can easily make this to serve on zucchini noodles or other noodle variants.
Whatever way you want to enjoy this, you just need to make it and be prepared for it to go on regular meal rotation!  🙂
Looking for more delicious and quick dinners?  Then make sure you get a copy of my Meals in a Jiffy cookbook with 35 dinner recipes that can be on the table in approx. 30 minutes!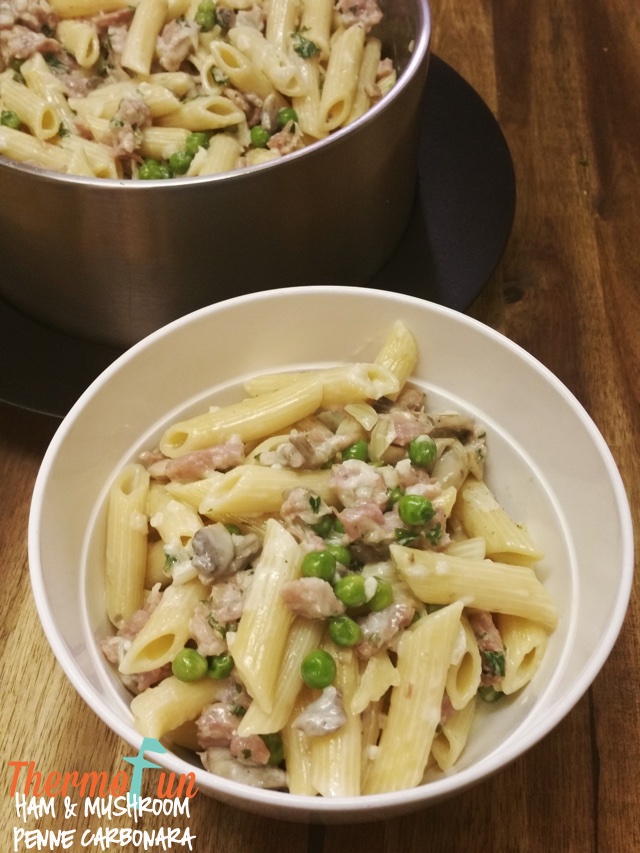 Ham & Mushroom Penne Carbonara - ThermoFun
Ingredients
350g penne
60g parmesan cheese, cubed
large handful fresh parsley
2-3 garlic cloves, peeled
20g olive oil
1 onion, peeled and halved
200g ham, diced
200g mushrooms, sliced
20g TM vegetable stock concentrate
20g wholegrain mustard
300ml cream
150g frozen peas
salt, to taste
grinds of black pepper
Instructions
Cook pasta in your ThermoServer Click Here for directions.
While pasta is cooking, continue on to make your sauce.
Place cheese and parsley into TM bowl and chop

10 sec / speed 9

. Set aside.
Place garlic, oil and onion into TM bowl and chop

3 sec / speed 5

.
Add ham and sauté

5 mins / Varoma / speed 1 / Reverse / MC off

.
Add mushrooms, stock and mustard and sauté

3 mins / Varoma / speed 1 / Reverse / MC off

.
Add cream, peas, salt and pepper and cook

8 mins / 100°C / speed 1 / Reverse / MC off

.
Combine with the drained pasta and mix in the cheese and parsley.
Click Here for more great recipes in a number of e-cookbooks – containing recipes to suit everyone.
If you have enjoyed this recipe then please consider leaving a comment.  It's always refreshing to see comments from people that have tried a recipe and found it a success or tweaked it to suit.