So what do you think of the new format for my Monthly Meal Plans?  If you are a ThermoFun newbie, in the past I would assign meals to dates, this year I'm going a little more casual and I give you a blank planner so that you can quickly jot down what's happening in the house plus what's for dinner.  I've also listed some great dinner ideas below to help fill the menu :D ENJOY!
Check back here to fill in your calendar and then find links directly to the recipes!
To use click the image above and a printable/downloadable image will appear.  Simply print or download and print to use.
FOR PREVIOUS THERMOFUN MEAL PLANS – CLICK HERE
FEBRUARY 2018
SPEEDY CHICKEN WITH MUSHROOM PASTA

 SAUSAGE, APPLE & SAGE PASTRY BRAID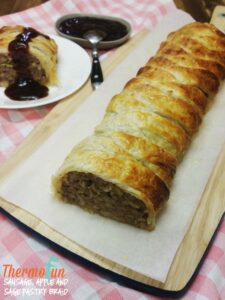 Do you want MORE TIME TO YOURSELF??!?!?!   I know we all do - that's why I created Meals In A Jiffy cookbook!  35 delicious and full of flavour recipes that can be on the table in less than 30 minutes!   Click Here to get your copy.
Enjoy your month of ThermoFun cooking!   If your family enjoyed a meal, please consider leaving a comment on the recipe as it's always exciting to see what recipes everyone has loved but also helps those that might not have tried it to give it a go!
Click Here for more great recipes in a number of e-cookbooks – containing recipes to suit everyone.