Jump to recipe
A scrumptious meal made easy! I'm not sure if you have seen on instagram lately, but I've been using the hashtag #makeitsimple. I'm finding that I'm so busy and the more and more I cook, the more I want quick meals (packed with flavour though - always has to be flavoursome!) This thermomix beef & broccoli in black bean sauce ticks ALL the boxes! :)
Many thanks to one of my amazing ThermoFunkie's Tania, for sharing this recipe, which we have both thoroughly enjoyed tweaking over the last few months.
It's super flavoursome and done within 30 minutes! Yes 30 minutes! You can now be the new expert in the family when it comes to Chinese inspired dishes!
Here are packets of salted black beans that can be found in Asian shops. They usually come in a 375g packet for approx. $2.50. I really encourage you to try and get them as they take the recipe to a whole new level!
If you are looking for more quick dinners - then check out my Meals in a Jiffy cookbook.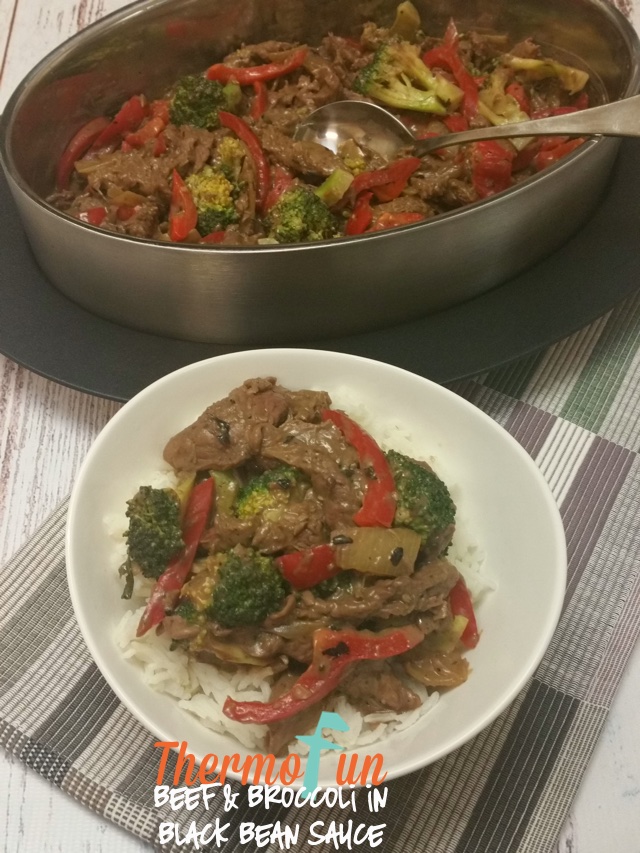 Ingredients
Ingredients - Meat
500g beef stir fry strips (or rump steak cut into thin strips)
Ingredients - Marinade
3 garlic cloves, peeled
1 onion, peeled and sliced (by hand)
20g olive oil
50g soy sauce
20g Chinese cooking wine (Shao xing wine)
½ teaspoon white pepper
½ teaspoon sugar
2 teaspoon corn flour
2 tablespoon dried salted black beans (purchased in a bag at Asian grocery)
10g sesame oil
Ingredients - Ginger Rice
2cm ginger
350g rice
1000g boiling water from kettle
Ingredients - Vegetables
1 small red capsicum, sliced
1 small broccoli or broccolini, cut into small florets
Instructions
Method - Marinade
Place garlic and olive oil into TM bowl and chop

3 sec / speed 5

. Scrape down. Add onion and sauté

5 mins / Varoma / speed 1 / MC off / Reverse

.
Add remaining marinade ingredients and mix

5 sec / speed 4 / Reverse

.
In a large bowl combine the beef strips with the marinade, set aside and allow to rest for

20 mins

.
No need to wash TM bowl.
While the beef is marinating, cook the rice and steam the vegetables.
Method – Steamed Ginger Rice and Vegetables
Place ginger into TM bowl and chop

3 sec / speed 5

.
Add 1000g boiling water into TM bowl. Weigh rice in simmering basket and rinse under cold tap until water runs clear. Carefully insert basket into TM bowl and cook

10 mins / 100°C / speed 4

.
Place capsicum and broccoli onto Varoma tray and place assembled Varoma on top of TM lid and continue cooking

7 mins / Varoma / speed 2.

Place rice into a pre-warmed ThermoServer and set the vegetables aside into a large serving bowl (or in another ThermoServer). Discard water from TM bowl.
Method – Beef
Place beef strips into TM bowl and cook

4 mins / 100°C / speed 1 / Reverse / MC off

.
Using your spatula, give the beef a stir and loosen away from the blades. Continue cooking

3 mins / 100°C / speed 1 / Reverse / MC off

.
To serve, combine beef with the vegetables and serve with the ginger rice.
Notes
* The salted black beans can be found in Asian shops. They usually come in a 375g packet for approx. $2.50. Unfortunately they are not in a general supermarket.

* If you prefer the onion can be chopped with the garlic in step 1. Personally though I like to slice it in this recipe, so the pieces are long and thin, the way it is served in a Chinese restaurant.

© 2023 Copyright, Legal Notice and Disclaimer: Design, photography and text copyright © ThermoFun 2014-2021. Tips and tricks within are the work of the author or nominated parties who have no association with Vorwerk or Thermomix in Australia and therefore are not official, or have the approval of Vorwerk or Thermomix in Australia. None of the recipes that appear here are tested or approved by Thermomix Australia or Vorwerk. Any thoughts expressed on this site are the authors own and are not sponsored by products unless clearly stated. Any nutritional values published on this website are general indications only, for more definitive stats use the panels provided on your products.
Click Here for more great recipes in a number of e-cookbooks – containing recipes to suit everyone.
If you have enjoyed this recipe then please consider leaving a comment. It's always refreshing to see comments from people that have tried a recipe and found it a success or tweaked it to suit.