Jump to recipe
I have been so blessed to have so many friends from different cultural backgrounds that are willing to share their family recipes with me. This is absolutely the most lip smacking delicious thermomix chicken and cashew I've ever tasted! :)
If you enjoy Chicken & Cashew when you're dining at the local Chinese restaurant you will need to find a new favourite because you will be using this recipe now when you're in the mood for Chinese cuisine!
This was a new family favourite within the first mouthful at our house! I suspect the same thing will happen at your house!
Thanks goes to Tania for sharing her amazingly delicious family recipe with us all! Happy Chinese New Year to those that celebrate.
To those that follow the Chinese Zodiac - This is the year of the Rooster - the Fire rooster to be exact. A quick google search and you will find information on what's happening for you if this is your year.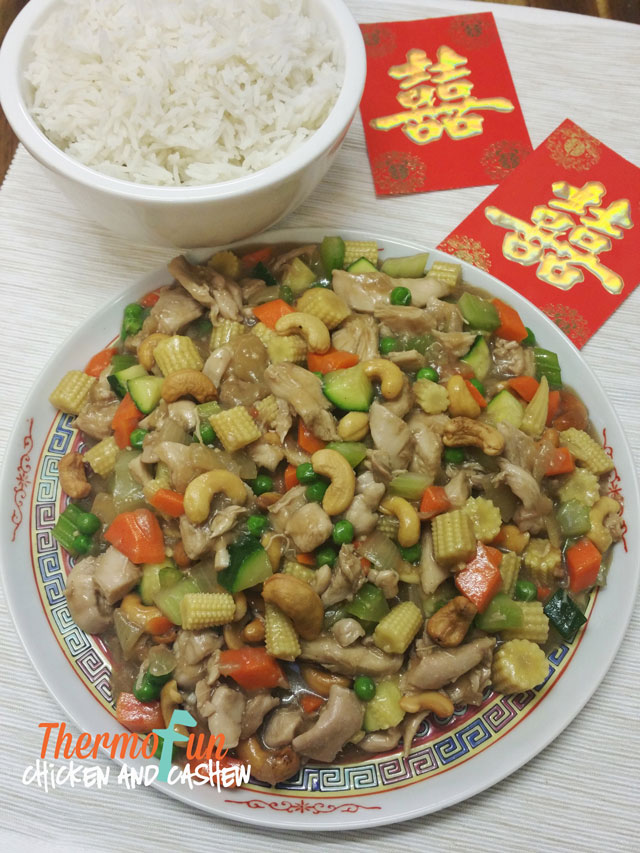 Ingredients
350g basmati rice
1000g boiling water from kettle
½ zucchini, diced
1 stick celery, diced
1 medium carrot, diced
1x410g tin baby corn, diced
½ cup frozen peas
2 garlic cloves, peeled
2 onions, peeled and halved
20g olive oil
500g chicken thighs, sliced into large strips
40g soy sauce
40g oyster sauce
30g Chinese cooking wine
2 teaspoon sesame oil
¼ teaspoon white pepper
1 tablespoon cornflour mixed with a small amount of water
½ cup roasted cashew nuts + few more to sprinkle on top
Instructions
Pour boiling water into TM bowl. Place rice in simmering basket and rinse under cold tap until water runs clear. Carefully insert basket into TM bowl and cook

10 mins / 100°C / speed 4

.
Place zucchini, carrot, celery, corn and peas into Varoma and place assembled Varoma onto TM lid while rice continues to cook

8 mins / Varoma / speed 2

.
Keep rice hot in ThermoServer and set vegetables aside in a large serving bowl covered.
Discard water in TM bowl.
Place garlic, onion and olive oil into TM bowl and chop

2 sec / speed 5

.
Add chicken and sauté

5 mins / 100°C / speed 1 / Reverse

.
Add sauce ingredients (excluding cashews) and cook

13 mins / 100°C / speed 1 / Reverse

.
Add chicken and cashew nuts to the vegetables and combine.
Sprinkle a few cashews on top to decorate.
© 2023 Copyright, Legal Notice and Disclaimer: Design, photography and text copyright © ThermoFun 2014-2021. Tips and tricks within are the work of the author or nominated parties who have no association with Vorwerk or Thermomix in Australia and therefore are not official, or have the approval of Vorwerk or Thermomix in Australia. None of the recipes that appear here are tested or approved by Thermomix Australia or Vorwerk. Any thoughts expressed on this site are the authors own and are not sponsored by products unless clearly stated. Any nutritional values published on this website are general indications only, for more definitive stats use the panels provided on your products.
Why not check out some of the past years Chinese New Year recipes as well.
Click Here for more great recipes in a number of e-cookbooks – containing recipes to suit everyone.
If you have enjoyed this recipe then please consider leaving a comment. It's always refreshing to see comments from people that have tried a recipe and found it a success or tweaked it to suit.