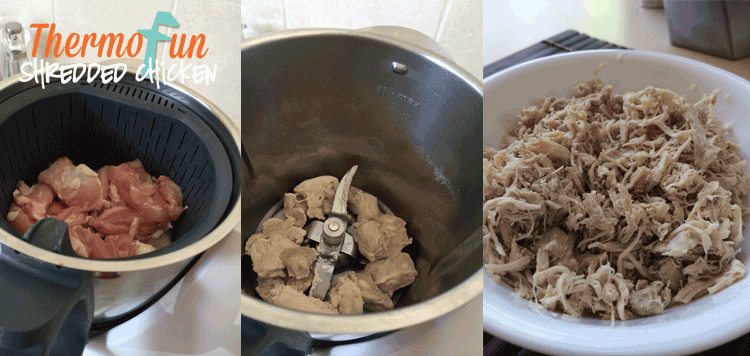 Using your thermomix to create amazing dishes is awesome, but what about everyday essentials?!
Shredded Chicken is a staple in our fridge and freezer.  It's great to always have on hand; to add to a lunch salad, to adding to a risotto, putting in a sandwich / wrap or throwing it in some quick quiches.
Other ideas for it are:
casseroles
enchiladas
macaroni cheese
omelette
spring rolls
stir fry
tacos
Ideas for seasoning chicken that can be sprinkled on top of the chicken whilst it is steaming:
Garlic marinade
Honey soy
Lemon and chilli
Chinese 5 Spices
Thai seasoning
Chicken Seasoning
Cumin and smoked paprika
Sumac
Smoked paprika, cayenne pepper, ground cumin and ground coriander
TIP:  Immediately after you make your own mayonnaise – place some steamed chicken in TM bowl and shred it on reverse and voila you have instant yummy chicken mayo!
ThermoFun – Everyday Basics – Shredded Chicken
Ingredients
500g chicken breast/thigh cubed
spices / marinade
600g boiling water from kettle
Instructions
Pour boiling water in TM bowl.
Add chicken in simmering basket and insert basket in TM bowl.
Add spices/marinade to chicken as desired.
Cook

20 mins / Varoma / speed 2

.
Take out basket using TM spatula to avoid being burnt!
Keep the water as liquid chicken stock (this will freeze until you want to use it).
Place cooked chicken back in TM bowl and shred

4 sec / speed 4 / Reverse

.
http://thermofun.com/thermofun-everyday-basics-shredded-chicken/
Copyright, Legal Notice and Disclaimer: Design, photography and text copyright © ThermoFun 2014-2017. Tips and tricks within are the work of the author or nominated parties who have no association with Vorwerk or Thermomix in Australia and therefore are not official, or have the approval of Vorwerk or Thermomix in Australia. None of the recipes that appear here are tested or approved by Thermomix Australia or Vorwerk. Any thoughts expressed on this site are the authors own and are not sponsored by products unless clearly stated. Any nutritional values published on this website are general indications only, for more definitive stats use the panels provided on your products.
What do you use your Shredded Chicken for?  Let us know below…
For more decadent recipes delivered to your inbox every Monday make sure you become a ThermoFun Club Member.
Click Here for more great recipes in a number of e-cookbooks – containing recipes to suit everyone.
If you have enjoyed this recipe then please consider leaving a comment.  It's always refreshing to see comments from people that have tried a recipe and found it a success or tweaked it to suit.