Jump to recipe
Why has it taken me so long to get this blend out to you all?! Oh My it's so delicious! Obviously not straight off the spoon delicious and not as delicious as chocolate BUT it is wonderfully fragrant and adds a lovely flavour profile to dishes.
If you have a recipe that uses an Italian herb blend then I suggest giving this one a go. If you don't normally make an Italian Herb Blend then I suggest you try this delicious Italian Chicken Risoni recipe!
Stay tuned for more Italian Herb Blend recipes! :)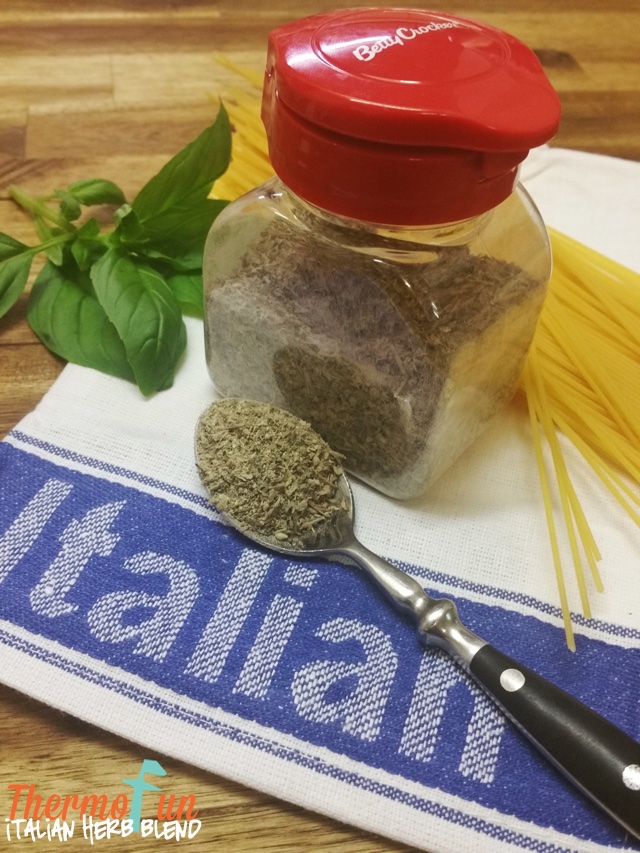 Serving Size
5 tablespoons
Ingredients
4 teaspoon basil, dried
4 teaspoon marjoram, leaves
3 teaspoon thyme, dried
2 teaspoon garlic, flakes
2 teaspoon oregano, dried
2 teaspoon parsley, flakes
2 teaspoon rosemary, dried
1 teaspoon sage, dried
Instructions
Place all ingredients into an airtight container and shake to distribute spices evenly.
Store away from extremes of heat, light and humidity for up to 1 year.
Shake well before each use.
© 2023 Copyright, Legal Notice and Disclaimer: Design, photography and text copyright © ThermoFun 2014-2021. Tips and tricks within are the work of the author or nominated parties who have no association with Vorwerk or Thermomix in Australia and therefore are not official, or have the approval of Vorwerk or Thermomix in Australia. None of the recipes that appear here are tested or approved by Thermomix Australia or Vorwerk. Any thoughts expressed on this site are the authors own and are not sponsored by products unless clearly stated. Any nutritional values published on this website are general indications only, for more definitive stats use the panels provided on your products.
Click Here for more great recipes in a number of e-cookbooks – containing recipes to suit everyone.
If you have enjoyed this recipe then please consider leaving a comment. It's always refreshing to see comments from people that have tried a recipe and found it a success or tweaked it to suit.