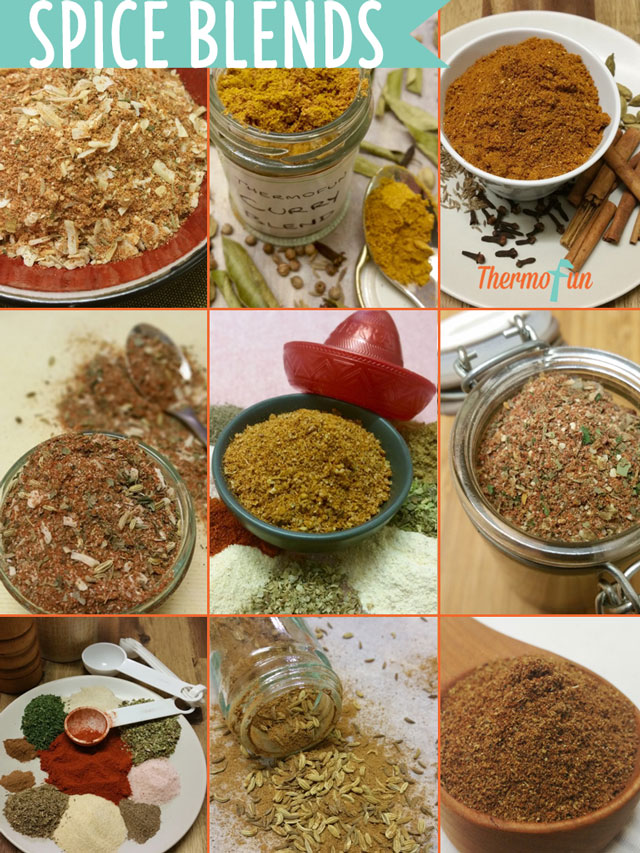 Last updated 3rd February, 2018
One of my favourite things to do (ok apart from making a recipe with chocolate!) is to make spice blends.   Since owning my Thermomix I have experimented with so many different spice blends.  They all taste so fresh and have no anti-caking agents.
Hints and tips about dried herbs and spices:
Spice Storage Tips
Keep away from heat, moisture, and direct sunlight.  These elements hasten the loss of flavour and aroma of spices and herbs.  Avoid storing over the stove, dishwasher, sink or near a window.

Spices should not be stored in the freezer.  Freezing does not extend the shelf life of regularly used dried spices and herbs. If stored in the freezer, and repeatedly removed for use, condensation will form in the bottles and accelerate loss of flavor and aroma.

Always close spice containers tightly after each use.
How to Optimise Freshness
Spices and herbs that are whole maintain their freshness longer than those that are ground.

Spices and herbs do not spoil but they do lose their strength. Old and weak seasonings will not deliver the taste they should.

Spices and herbs will keep for a long time if they are stored in airtight bottles.  The shelf life of properly stored spices and herbs is approximately 4 years for whole spices, 2-3 years for ground spices and 1-3 years for leafy herbs, depending on the herb.

There are three checks to use when verifying freshness – look, smell and taste.  A visual check for colour fading is a good indicator of flavour loss.  Taste and smell your spices and herbs; if a fresh odour or taste is not apparent, they need to be replaced.

Do not sprinkle spices and herbs directly from the bottle over steam.  Steam introduced into the bottle will hasten the loss of flavour and aroma.  Steam will also result in caking of contents.

Make sure your measuring spoon is completely dry when you dip it into the bottle.  Moisture introduced into the bottle will also result in caking and flavour loss.
Milling spices in your Thermomix
When milling spices put a piece of baking paper in between bowl and lid so you won't have powder drifting around in the air. The spices will then just fall off the baking paper rather than getting all over the lid and seal. Don't waste that baking paper, make a funnel to help put blend into small containers.
SPICE BLENDS ON THERMOFUN
I'd love to hear from you in the comments below what is your favourite ThermoFun Spice Blend recipe?
For more decadent recipes delivered to your inbox every Monday make sure you become a ThermoFun Club Member.
Click Here for more great recipes in a number of e-cookbooks – containing recipes to suit everyone.
If you have enjoyed this recipe then please consider leaving a comment.  It's always refreshing to see comments from people that have tried a recipe and found it a success or tweaked it to suit.