Do you know there are so many uses for our ThermoServers?
Tip: As the ThermoServer is stainless steel (and hence very cold!) I do recommend that you pre-warm it with hot water for a few minutes prior to using it for hot food.
Do you know you can cook pasta in your ThermoServer? Click here to find out how. :)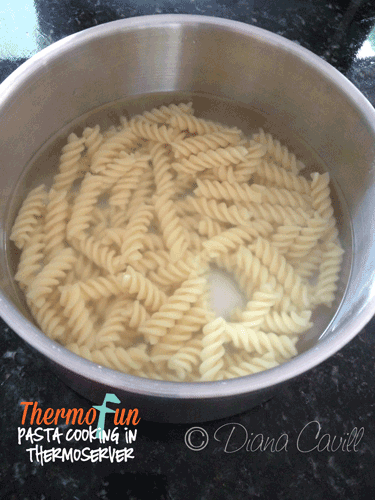 • BBQ's – Keep cooked meat hot.
• BBQ's – Use as an ice bucket.
• Rest the bread dough by placing dough inside server or fill with hot water and put lid on then put your dough wrapped up in the ThermoMat to sit on top – creates a lovely warm spot for dough to rise.
• Baby food – Great for heating up so no need to microwave. Just pour a few centimeters of really hot water in, put the bowl in the water and the lid on for 5 minutes and it's perfect every time.
• Roasted Capsicum - place hot roasted capsicums in ThermoServer to 'sweat'. This will make the skin come off very easily.
• Couscous cooking.
• Freezer safe? Yes they can go in the freezer – but if you're making ice cream don't put lid on for at least 2 hours as it will still be warm and not freeze.
• Ice-cream.
• Varoma – Keep the cooked varoma food warm by placing the Varoma on top of the ThermoServer (without the ThermoServer lid on).
• Keep meals hot such as rice, curry, pasta, risotto, steamed vegetables.
• Great for when family members eat at different times due to sport or work commitments.
• OVEN SAFE? NOOOOOOOOOOOOOO!!!
• Pancakes stay warm until all are cooked so that the family can eat together.
• Picnics - keep any kind of salad or fruit salad cold.
• "Rest" your meat in it so it can continue to stay hot.
• Risotto – leave it in server for a few minutes to absorb any excess liquid.
• Sorbet.
• Tortillas and wraps – keep warm as they need resting or they will break when you roll/fold.
• Transportation - if you're taking it in a car full of food – the base works as a much more secure lid so no spillage. NB: this is not recommended if contents are hot.
• Yoghurt incubator when making yoghurt.
• Dips – use the base as a serving tray – place dip in middle and surround with vegetable sticks & crackers.
• Cooking hotdogs - 5 mins in hot water in pre heated ThermoServer.
Tip: The actual ThermoServer is dishwasher proof, but advisable that the black lid and black base not to be put in, as some dishwashers have very hot water which can cause the black to fade and or warp.
If you use your ThermoServer for any other uses – please comment below, we'd love to hear and I'm sure there are more to add! :)
For more great tips and recipes on using your thermomix join our free monthly newsletter here: ThermoFun Newsletter Subscription.
Click Here for more great recipes in a number of e-cookbooks – containing recipes to suit everyone.