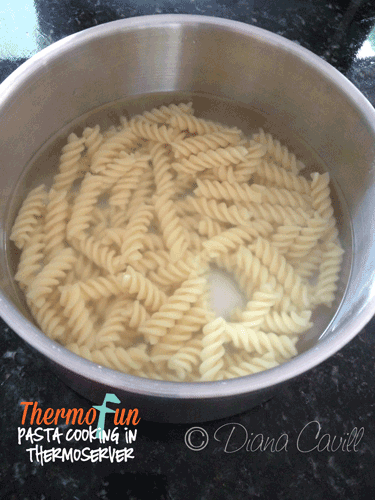 THERMOSERVER is the name for the assembled thermal food warmer distributed by Thermomix in Australia, consisting of a black base, ThermoServer bowl and lid.
Did you know you can cook pasta in the ThermoServer?  Very handy tip if your Thermomix is making something else and you don't want to get a pot out and turn the stove on!  I have to admit since owning my Thermomix I rarely use my stove, consequently it has ended up as my 'dumping ground' for mail, school notes and junk mail etc that I need to attend to!  🙂
Being able to cook pasta in the ThermoServer is also handy if you are away camping with just your Thermomix and no stove!  Or perhaps your stove may be out of order or you could be renovating your kitchen and have no access to a stove.
ThermoFun – Cooking Pasta in the ThermoServer
Ingredients
100 - 500g pasta
boiling water from kettle
ThermoServer
Instructions
To Pre-warm ThermoServer:
Pour approx. 1 litre boiling water from kettle into ThermoServer and place lid on.


NB

: it is crucial to pre-warm your server for the pasta to cook.
Boil kettle again, once boiled, discard water in ThermoServer.
(I utilise this water by washing any dirty dishes or pour it into a bucket to water my pot plants once it has cooled).
To Cook Pasta:
Place empty, warmed ThermoServer on top of TM bowl and weigh in pasta.
Place ThermoServer into black base on bench. Cover pasta with boiling water and place lid on.


NB

: it is crucial for ThermoServer to be fully assembled using black base and lid to maintain temperature.
Set a timer for time stated on your pasta packet.
Strain pasta and place it into ThermoServer to keep hot until required.
Notes
* This only works with spirals/macaroni (short pasta). It does not work with spaghetti or fettuccine.

For many more uses for your ThermoServer click here.
For more great tips and recipes on using your thermomix join our free monthly newsletter here:  ThermoFun Newsletter Subscription.
Click Here for more great recipes in a number of e-cookbooks – containing recipes to suit everyone.