Jump to recipe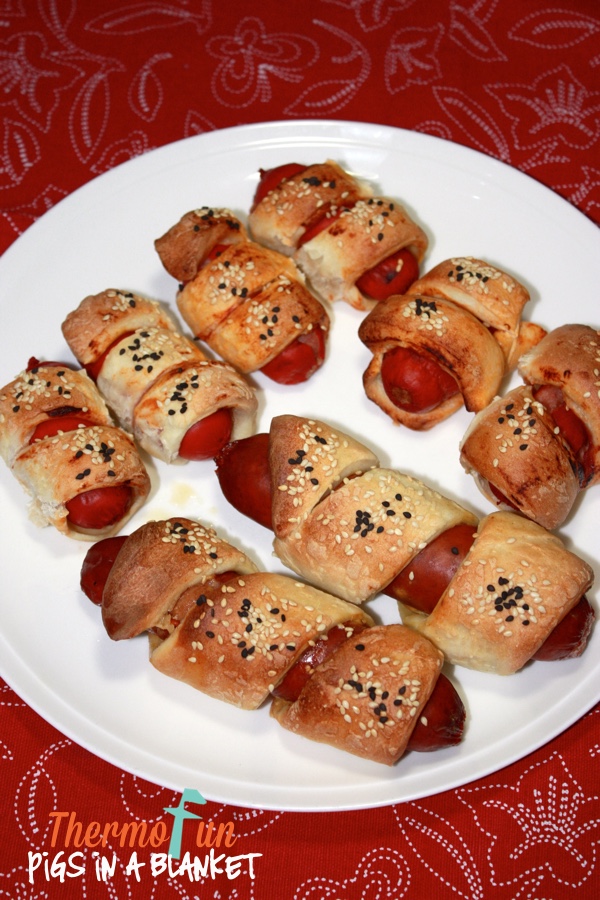 I am constantly amused by National Food Days and I wonder who on earth comes up with some of them!
Yesterday was National Pigs-in-a-Blanket Day! It is celebrated on the 24th April every year.
Pigs in a blanket are a type of food, which is also known as pigs in blankets, devils on horsebacks, kilted sausages and wiener winks. They are different sausage-based foods but not sausage rolls.
In the United Kingdom, pigs in blankets are small sausages, or chipolatas wrapped up in bacon. In America, pigs in a blanket often refers to hot dogs, Vienna sausages, or breakfast sausages wrapped in biscuit dough, croissant dough or a pancake and then baked.
The original version of this food item which came from Germany consisted of rice enclosed in a cabbage leaf. As it evolved, the ingredients for Pigs In A Blanket became more meat-based. Sausages wrapped with bacon and covered with a bread wrap was one of the first versions with meat and now all types of small sausages or wieners are used for making Pigs In A Blanket.
On the ThermoFun Cook Along I ran in March 2015 for ThermoFun members, I gave them a challenge to make these and for them to share their photos. There were some really great photos! I was most impressed as trust me, I had to do these quite a few times to get a decent photo!
Ingredients
450g baker's flour
1 teaspoon salt
2 teaspoon sugar
2 teaspoon dried yeast
30g olive oil
250g warm water
mini frankfurts or chipolatas
sesame seeds
Instructions
Preheat oven to

200°C

.
Place all ingredients (except frankfurts/chipolatas and sesame seeds) in order in TM bowl and mix

5 sec / speed 6

.
Knead

1 min / Interval

.
Roll the dough out thinly, coat it in tomato paste, bacon jam or pizza sauce.
Then cut the dough into thin strips approx. 1.5cm wide for small ones and 3cm wide if using large sausages.
Wind each strip around the frankfurt/chipolata then brush with milk and sprinkle seeds on top.
Cook

15 mins

in oven or until golden brown.
© 2023 Copyright, Legal Notice and Disclaimer: Design, photography and text copyright © ThermoFun 2014-2021. Tips and tricks within are the work of the author or nominated parties who have no association with Vorwerk or Thermomix in Australia and therefore are not official, or have the approval of Vorwerk or Thermomix in Australia. None of the recipes that appear here are tested or approved by Thermomix Australia or Vorwerk. Any thoughts expressed on this site are the authors own and are not sponsored by products unless clearly stated. Any nutritional values published on this website are general indications only, for more definitive stats use the panels provided on your products.
Click Here for more great recipes in a number of e-cookbooks – containing recipes to suit everyone.
If you have enjoyed this recipe then please consider leaving a comment. It's always refreshing to see comments from people that have tried a recipe and found it a success or tweaked it to suit.