Jump to recipe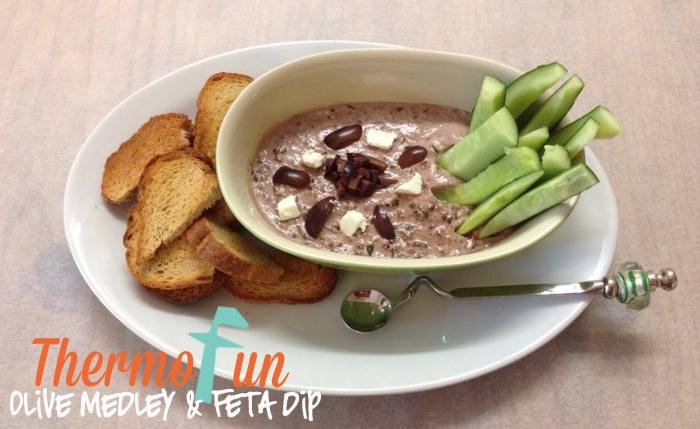 Many people know that I have converted so many commercial dips just by taking photos of the ingredients on the containers in the supermarket and then coming home and just 'winging' it to see if I can replicate them to be made in the Thermomix.
I was asked by a liker on my ThermoFun facebook page if I could try and convert a very well known popular commercial dip - it was the Olive Medley & Feta Dip. Now this one I have to admit was a little challenging to replicate, simply because I had never tried the commercial one and nor do I like olives!
Anyway I made it and if I was an olive eater I was fairly sure I'd "nailed it". However to be on the safe side I did ask a few ThermoFun Club Members to test the recipe out for me. I also asked the facebook page liker, Alexia, to test it out for me and she said it was spot on! Alexia also said "I'm a huge fan - lets just say I ate this for breakfast this morning haha". :)

Serving Size
approx. 160g
Ingredients
70g black pitted olives (can be a mixture of black and green olives)
55g mayonnaise
30g Greek feta
5g lemon juice
¼ teaspoon oregano
¼ teaspoon thyme
¼ teaspoon Italian Mixed Herbs
sprinkle black pepper
Instructions
Place all ingredients into TM bowl and chop

3 sec / speed 5

.
Scrape down and repeat until desired consistency.
Notes
This dip is best made in advance, as it does need a few hours in the fridge to 'set'.
If your olives are pitted olives you can remove the pits in the thermomix: count olives into TM bowl, process for 5 sec / Speed 4 / reverse. Check bowl and repeat if necessary. Remove olive pits and make sure there's one for every olive you counted in (to avoid broken teeth!)

© 2023 Copyright, Legal Notice and Disclaimer: Design, photography and text copyright © ThermoFun 2014-2021. Tips and tricks within are the work of the author or nominated parties who have no association with Vorwerk or Thermomix in Australia and therefore are not official, or have the approval of Vorwerk or Thermomix in Australia. None of the recipes that appear here are tested or approved by Thermomix Australia or Vorwerk. Any thoughts expressed on this site are the authors own and are not sponsored by products unless clearly stated. Any nutritional values published on this website are general indications only, for more definitive stats use the panels provided on your products.
Click Here for more great recipes in a number of e-cookbooks – containing recipes to suit everyone.
If you have enjoyed this recipe then please consider leaving a comment. It's always refreshing to see comments from people that have tried a recipe and found it a success or tweaked it to suit.