Jump to recipe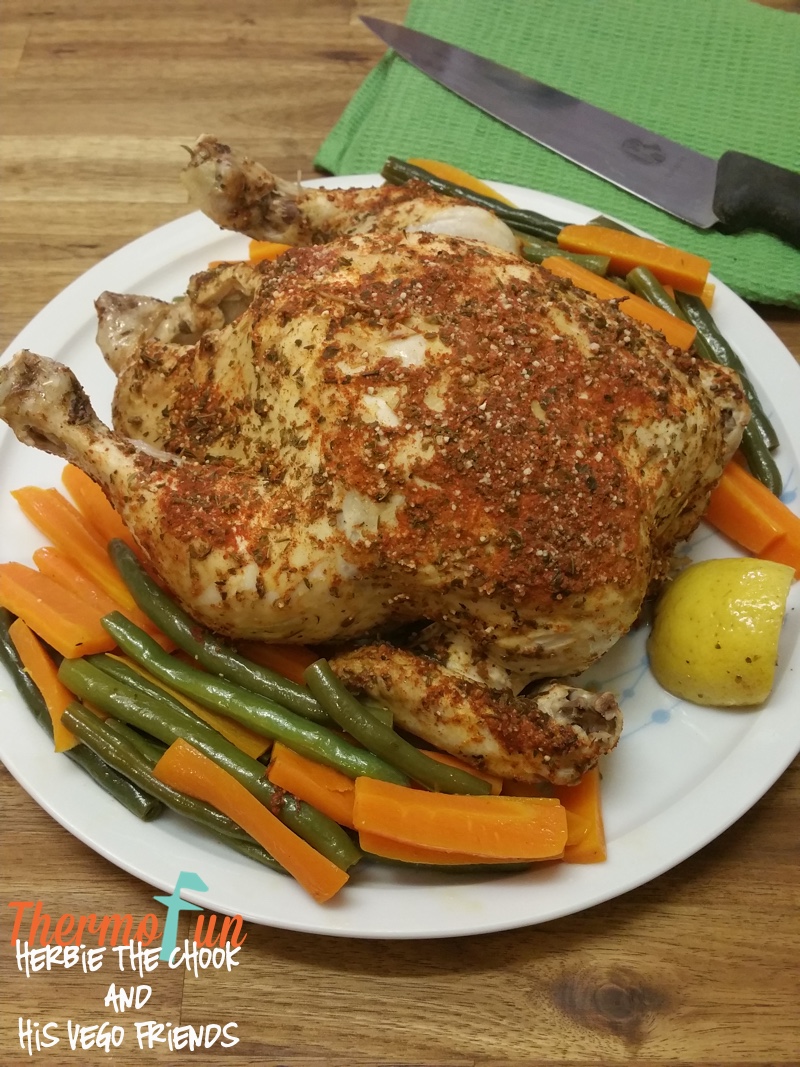 One of my most favourite things to cook in the Thermomix is to steam a whole chook (Aussie slang for chicken)!  It's amazing how so many people are not aware that this can be done, but once they do it for the first time they never look back!
I prefer to steam my chicken in the Varoma as opposed to roasting it in the oven. Sometimes I put it in the oven for 10 minutes at the end to brown up, this depends on the sort of marinade I rub into it. I find if I have paprika in the mix to rub on it, that it doesn't need to go in the oven at all due to the colour of paprika.  However it really is a personal preference.
Steaming the chicken in the Varoma leaves the chicken soooo moist it's really beautiful. I do find that the oven can dry out the chicken meat in comparison.
NB: If you are only cooking for 1 or 2 people you can buy a few chicken pieces rather than a whole chicken.
Herbie the Chook was made by many on the June and November 2014 ThermoFun Cook Along and was loved by all.
All my spice blends work well with a "roast chook".
Ingredients
1 chicken (up to 2kg)
1 tablespoon mixed herbs, dried
2 teaspoon paprika, sweet
½ teaspoon salt
½ teaspoon pepper
1 lemon, halved
1700g boiling water from kettle
vegetables of choice, cut into serving size pieces
Instructions
Rinse the chicken cavity and then pat dry with paper towel.
Pierce the skin of the chicken all over with a knife.
Mix in a small dish: mixed herbs, paprika, salt, pepper and juice of half a lemon.
With gloves on, rub mix onto skin. Place remaining un-juiced lemon half at the end of the cavity.


Tip

: you can use toothpicks to hold lemon in place. Set aside chicken into Varoma deep dish.
Pour boiling water into TM bowl, place assembled Varoma onto TM lid and cook

60 mins / Varoma / speed 2

.
Remove Varoma from TM lid and set aside. Check water level in bowl is adequate. Add hard vegetables eg. potatoes, pumpkin, and carrots into simmering basket and carefully lower basket into TM bowl.
Place assembled Varoma with chicken onto TM lid and cook

30 mins / Varoma / speed 2

(vary time depending on size of chicken). Then place the soft vegetables around the chicken and cook

8 mins / Varoma / speed 2

.
OR remove chicken from Varoma and place into a baking dish to brown. Cook in oven approx.

20-30 mins

.
This will then give plenty of room to steam a large amount of vegetables in your Varoma, if required.
Notes
* Rubbing paprika onto the skin gives a more traditional 'roasted' appearance but I do wear disposable gloves to save my fingers getting stained!
* Make sure to keep broth from steamed chicken as it is a great base for soups, stews, sauces etc

© 2023 Copyright, Legal Notice and Disclaimer: Design, photography and text copyright © ThermoFun 2014-2021. Tips and tricks within are the work of the author or nominated parties who have no association with Vorwerk or Thermomix in Australia and therefore are not official, or have the approval of Vorwerk or Thermomix in Australia. None of the recipes that appear here are tested or approved by Thermomix Australia or Vorwerk. Any thoughts expressed on this site are the authors own and are not sponsored by products unless clearly stated. Any nutritional values published on this website are general indications only, for more definitive stats use the panels provided on your products.
Disclaimer:  If you are using your TM5 and you get an error code C160 or C161 - please contact your consultant or Thermomix Australia in regards to your machine as it may have a known problem.
Click Here for more great recipes in a number of e-cookbooks – containing recipes to suit everyone.
If you have enjoyed this recipe then please consider leaving a comment.  It's always refreshing to see comments from people that have tried a recipe and found it a success or tweaked it to suit.