It's the 1st Monday of the month and that means it's time to crack out a delicious dish that is super easy and quick to do.  My Creamy Salmon & Mushroom Fettuccine dish is a popular recipe so I knew that when I found another quick salmon dish, it too would be a winner!  🙂  This thermomix Smoked Salmon & Asparagus Pasta recipe is sure to be a winner in your family as well.  🙂
I love seafood and Steve especially loves salmon, so when I find a recipe that allows us to indulge we do!   The pairings of the salmon, avocado and asparagus then with the hit of the capers, the subtle hint of white wine….. oh stop reading and just go make it!  🙂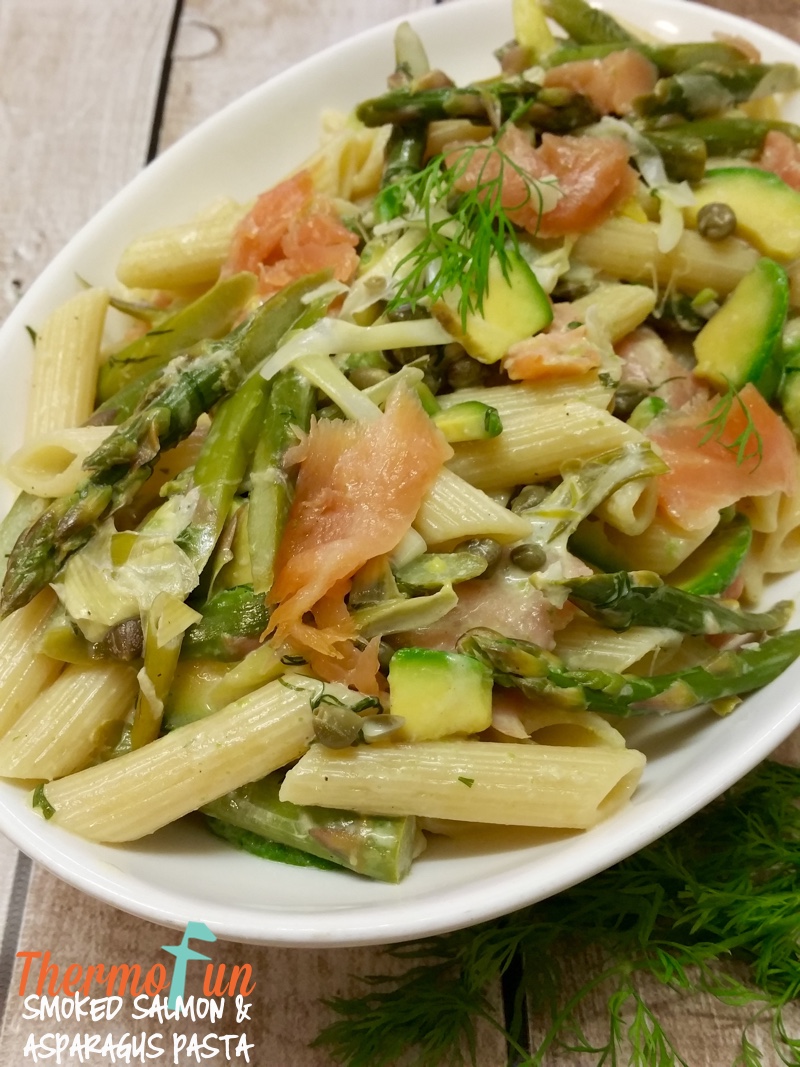 If your family aren't salmon lovers then try tuna or chicken.
Looking for more delicious and quick dinners?  Then make sure you get a copy of my Meals in a Jiffy cookbook with 35 dinner recipes that can be on the table in approx. 30 minutes!
Smoked Salmon & Asparagus Pasta – ThermoFun
Ingredients
300g pasta, penne
20g parmesan cheese
2 garlic cloves, peeled
20g olive oil
4 spring onions, sliced diagonally
20g TM vegetable stock concentrate
60g white wine
1 bunch asparagus, quartered, sliced diagonally
300g cream
1 Tbsp capers, drained
¼ tsp black pepper
2 Tbsp fresh dill, chopped roughly
1 avocado, peeled and sliced
200g pkt smoked salmon, sliced
Instructions
To cook pasta in your ThermoServer Click Here.
While your pasta is cooking, continue on to make your sauce.
Place cheese into TM bowl and grate

10 sec / speed 9

. Set aside.
Place garlic and oil into TM bowl and chop

3 sec / speed 8

. Scrape down.
Add spring onions and sauté

4 mins / Varoma / speed 1 / MC off

.
Add stock, wine and asparagus (bottom ends) and cook

3 mins / 100°C / speed 1 / Reverse / MC off

.
Add cream, capers, remaining asparagus, cheese, pepper and dill and cook


5 mins / 100°C / speed 1 / Reverse / MC off

.
Stir through avocado and salmon with aid of spatula.
Drain pasta and stir through the sauce.
https://thermofun.com/smoked-salmon-asparagus-pasta-mad-monday/
Copyright, Legal Notice and Disclaimer: Design, photography and text copyright © ThermoFun 2014-2019. Tips and tricks within are the work of the author or nominated parties who have no association with Vorwerk or Thermomix in Australia and therefore are not official, or have the approval of Vorwerk or Thermomix in Australia. None of the recipes that appear here are tested or approved by Thermomix Australia or Vorwerk. Any thoughts expressed on this site are the authors own and are not sponsored by products unless clearly stated. Any nutritional values published on this website are general indications only, for more definitive stats use the panels provided on your products.
Click Here for more great recipes in a number of e-cookbooks – containing recipes to suit everyone.
If you have enjoyed this recipe then please consider leaving a comment.  It's always refreshing to see comments from people that have tried a recipe and found it a success or tweaked it to suit.