Kids cooking doesn't get much better does it!   🙂   So for our first ThermoFun KIDtastic Friday – there is nothing better than a classic – Thermomix Vanilla Cupcakes!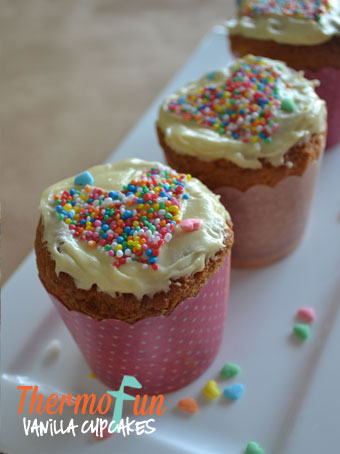 It is so wonderful to see kids taking ownership and feeling so proud of their cooking accomplishments.  Age permitting the kids can bake these thermomix vanilla cupcakes from scratch or help you put the mixture in the cups or even help with the all important sprinkles on top!  🙂
This recipe was one of the first recipes that was part of the 2014 ThermoFun Recipe Club and it was a hit back then and to this day it's a hit in our house.  My daughter Diana often makes these – not so much now she has finished high school – but they do remind me of her school days and "teaching" those life long skills.
KIDtastic Friday – Vanilla Cupcakes
Ingredients
225g raw sugar
225g butter, cubed, softened
225g self raising flour
1 tsp baking powder
4 eggs
Cream Cheese Frosting
100g butter, cubed, softened
90g cream cheese
300g icing sugar
Instructions
Vanilla Cupcakes
Preheat oven to

180°C

. Grease and line muffin tins (24 regular or 48 mini holes) with paper cases.
Place sugar into TM bowl and mill

3 sec / speed 9

.
Add butter and remaining ingredients and mix

3 sec / speed 5

. Scrape down and mix

5 sec / speed 6

or until mixture is smooth and has changed colour.
Divide batter evenly between muffin tins.
Place in oven and bake approx.

20 mins (regular) / 12 mins (mini)

or until golden and spring back when lightly touched in the middle.
Cream Cheese Frosting
Place butter, cream cheese and icing sugar into TM bowl and mix

10 sec / speed 5

. Scrape down and mix

5 sec / speed 5

.
Click Here for more great recipes in a number of e-cookbooks – containing recipes to suit everyone.
If you have enjoyed this recipe then please consider leaving a comment.  It's always refreshing to see comments from people that have tried a recipe and found it a success or tweaked it to suit.