Well classic example of my Mad Monday yesterday is that I completely forgot to publish this!  🙂
Simple, quick and flavoursome, I know I say it all the time but it is the crux of eating now a days!  We are so busy with all that goes on around us that we need those 3 things!  This thermomix chicken, sun dried tomato, mushroom pasta is the perfect mid week or arrrgghhh dinner time meal!  🙂
It's so flavoursome, it's so simple and it's so quick!  You will have it slotting into the regular rotation for sure!  The creamy sauce, the flavours of the sun dried tomato and mushroom it just makes for a great meal!
Looking for more delicious and quick dinners?  Then make sure you get a copy of my Meals in a Jiffy cookbook with 35 dinner recipes that can be on the table in approx. 30 minutes!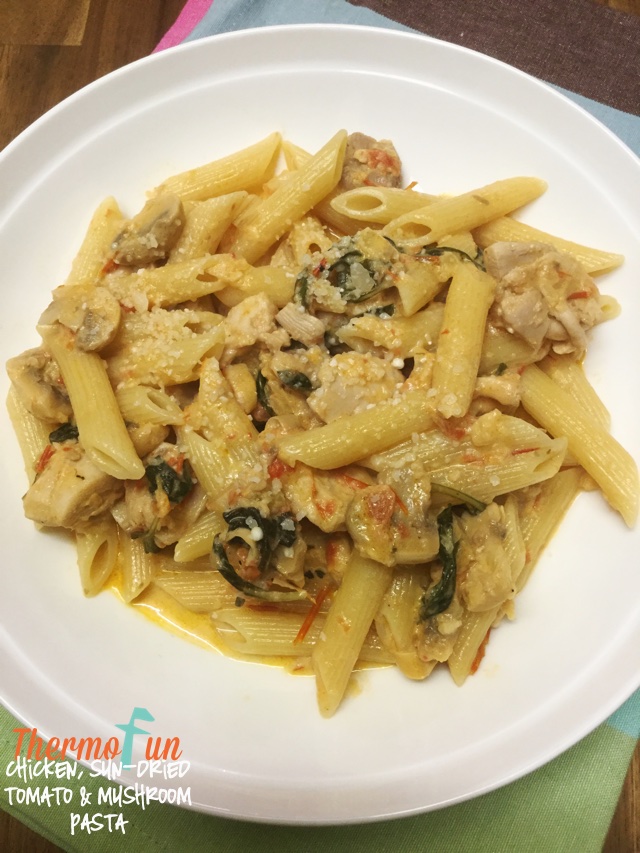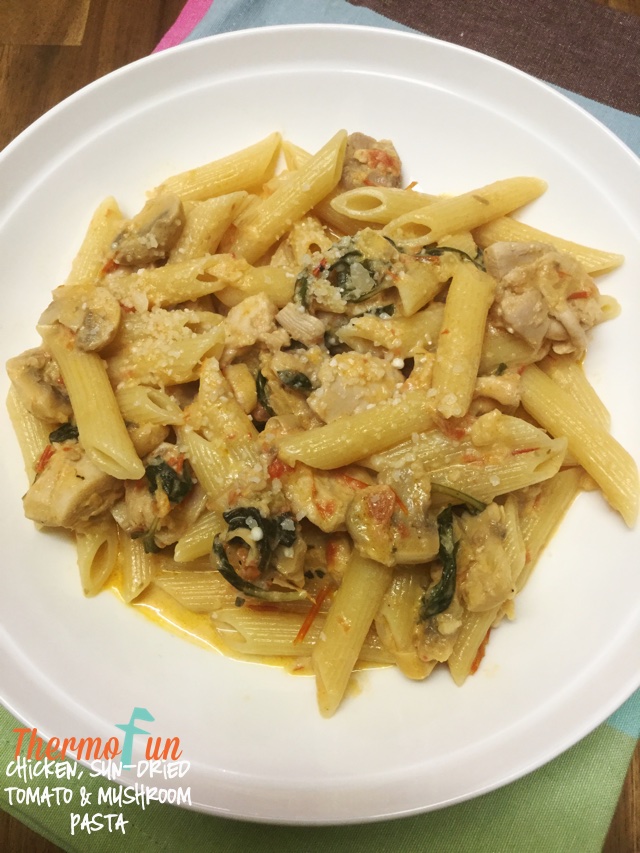 Chicken, Sun Dried Tomato & Mushroom Pasta – ThermoFun
Ingredients
300g pasta, penne or spiral
60g parmesan cheese, cubed
4 garlic cloves, peeled
1 onion, peeled and halved
100g sun-dried tomatoes
20g olive oil
200g fresh mushrooms, sliced
20g TM vegetable stock concentrate
250g thickened cream
50g white wine
600g chicken thighs, cubed
large handful fresh basil
Instructions
To cook pasta in your ThermoServer Click Here.
While your pasta is cooking, continue on to make sauce.
Place cheese into TM bowl and grate

6 sec / speed 6

. Set aside
Place garlic, onion, sun-dried tomatoes and oil into TM bowl and chop

3 sec / speed 5

.
Add mushrooms and sauté

5 mins / Varoma / speed 1 / Reverse / MC off

.
Add stock, cream, wine, chicken and basil and cook

16 mins / 100°C / speed 1 / Reverse

.
Add cheese and stir through with aid of spatula.
Combine chicken and sauce with pasta and serve.
https://thermofun.com/chicken-sun-dried-tomato-mushroom-pasta-mad-monday/
Copyright, Legal Notice and Disclaimer: Design, photography and text copyright © ThermoFun 2014-2019. Tips and tricks within are the work of the author or nominated parties who have no association with Vorwerk or Thermomix in Australia and therefore are not official, or have the approval of Vorwerk or Thermomix in Australia. None of the recipes that appear here are tested or approved by Thermomix Australia or Vorwerk. Any thoughts expressed on this site are the authors own and are not sponsored by products unless clearly stated. Any nutritional values published on this website are general indications only, for more definitive stats use the panels provided on your products.
Click Here for more great recipes in a number of e-cookbooks – containing recipes to suit everyone.
If you have enjoyed this recipe then please consider leaving a comment.  It's always refreshing to see comments from people that have tried a recipe and found it a success or tweaked it to suit.