Jump to recipe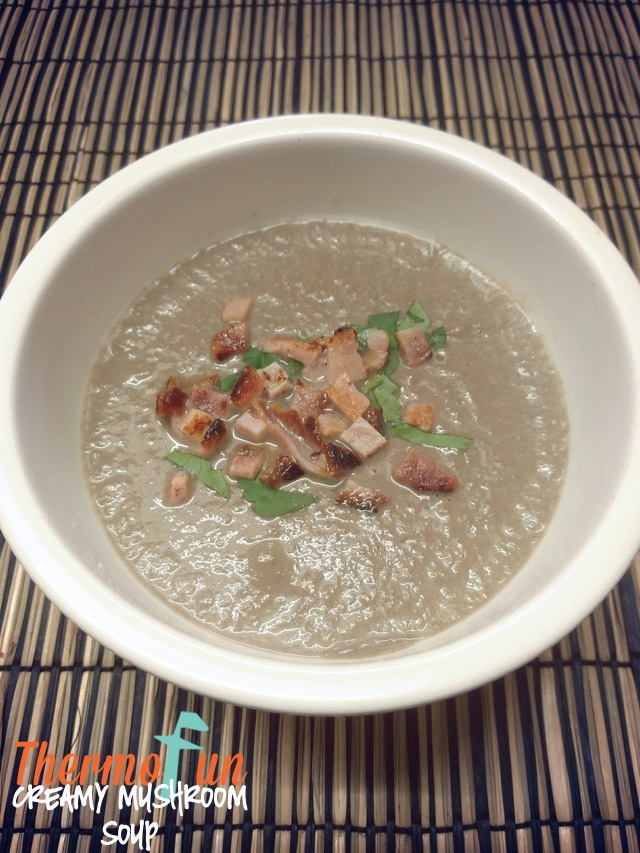 This is such a yummy creamy soup, which freezes well too.  If you don't have fresh thyme you can substitute with dried.  I really love the crispy bacon on top of this soup – the bacon can be either fried in a frypan, or cooked in the oven or wrapped in a paper towel in microwave on high for 3 minutes.
Ingredients
1 garlic clove, peeled
2 onions, peeled and halved
10g olive oil
2 teaspoon thyme, fresh or dried
700g mushrooms
20g TM vegetable stock concentrate
500g boiling water from kettle
pepper, to taste
2 bacon rashers
100g thickened cream
Instructions
Place garlic, onion and oil into TM bowl and chop

3 sec / speed 5

.
Scrape down and sauté

5 mins / Varoma / speed 1 / MC off

.
Add thyme, mushrooms, stock, water and pepper and cook

10 mins / 100°C / speed 1

.
While soup is cooking - in a frypan cook bacon until crispy and then drain on a paper towel. Or wrap bacon in a paper towel and cook in microwave for 3 mins. Remove from heat and allow bacon to dry out on a paper towel so it will be able to be crumbled.


WARNING: WHEN PUREEING HOT LIQUIDS FOLLOW THE DIRECTIONS IN YOUR THERMOMIX INSTRUCTIONS MANUAL

.
Carefully blend

1 min

, gradually increasing from

speed 1 to speed 9

.
Add cream and mix

20 sec / speed 2

.
To serve, ladle soup into serving bowls. Garnish with chopped crispy bacon.
© 2023 Copyright, Legal Notice and Disclaimer: Design, photography and text copyright © ThermoFun 2014-2021. Tips and tricks within are the work of the author or nominated parties who have no association with Vorwerk or Thermomix in Australia and therefore are not official, or have the approval of Vorwerk or Thermomix in Australia. None of the recipes that appear here are tested or approved by Thermomix Australia or Vorwerk. Any thoughts expressed on this site are the authors own and are not sponsored by products unless clearly stated. Any nutritional values published on this website are general indications only, for more definitive stats use the panels provided on your products.
If you have enjoyed this recipe then please consider leaving a comment.  It's always refreshing to see comments from people that have tried a recipe and found it a success or tweaked it to suit.