Jump to recipe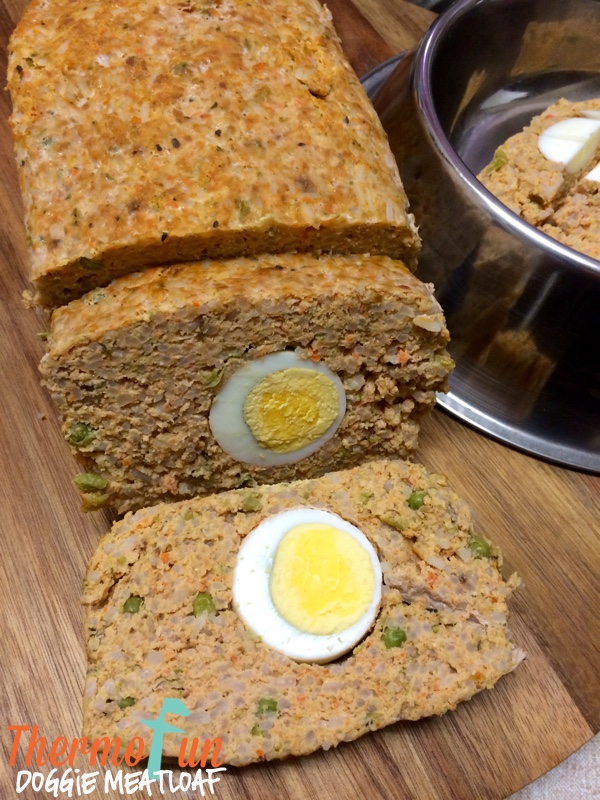 As a follow up to last weeks ThermoFun Member Spotlight Doggy Treats recipe, Tania is sharing the meatloaf recipe that she also gives her dog (Honey).   I really think I want to be Tania's dog!!!  Talk about live like a Queen!  :)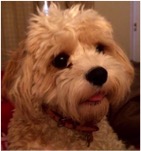 Tania is a ThermoFun Club Member.  This recipe sounds too delicious and I'm not even a dog!!
Here is Tania's little spiel about her meatloaf:
"I've been making variations of this meatloaf for my various dogs for years. Mostly any vegetable apart from garlic and onion can be used. Good time to use any bits and pieces in the vegetable crisper or even left over cooked veg from a previous meal. Chicken or beef mince can be substituted; even adding some chopped up chicken livers is good. I use whatever is on sale or needing to clear out of the fridge/freezer. You can add supplements such as fish oil or chopped up nori sheets to this mix. The 3 boiled eggs lined in the middle are of course totally optional. I spotted someone online using them this way and thought it would make an extra special treat for Honey. Honey is a small/medium dog and she gets 8 meals from this meatloaf along with some dry food to supplement. Use within the week refrigerated or suitable to freeze in portion slices".
Ingredients
60g parmesan cheese, cubed
1 small zucchini, quartered
1 small carrot, quartered
1 medium potato, quartered
handful fresh parsley
900g boiling water from kettle
100g rice
3 eggs, washed (for boiling, optional)
500g turkey mince
60g tomato paste
½ cup frozen peas
2 eggs extra
1500g boiling water from kettle (extra)
Instructions
Place parmesan in TM bowl and grate

5 sec / speed 9

. Set aside.
Place zucchini, carrot, potato and parsley in TM bowl and chop

3 sec / speed 7

. Set aside.
Pour 900g boiling water into TM bowl.
Place simmering basket on TM lid and weigh 100g rice. Rinse rice in basket under tap. Place basket back in TM bowl and sit 3 whole eggs on top of the rice (if you are using, make sure eggs are washed well first).
Cook

14 mins / 100°C / speed 4

.
Dispose of remaining water from TM bowl and add steamed rice, vegetable mix, turkey mince, tomato paste, parmesan, frozen peas, crack in 2 eggs and combine

20 sec / speed 5 / Reverse

.
Use the TM spatula through the MC hole as an aid to mix if required.
Press half the mixture into a lined loaf tin that fits inside the base of the Varoma. Lay the peeled boiled eggs (if using), along the middle and press the remaining mixture on top.
Cover with foil or a piece of baking paper.
Poor 1500g boiling water in TM bowl.
Place meatloaf in bottom Varoma dish and place assembled Varoma on top of TM lid and steam

60 mins / Varoma / speed 4

.
Notes
For this recipe you will need a loaf pan that fits inside your varoma.

© 2023 Copyright, Legal Notice and Disclaimer: Design, photography and text copyright © ThermoFun 2014-2021. Tips and tricks within are the work of the author or nominated parties who have no association with Vorwerk or Thermomix in Australia and therefore are not official, or have the approval of Vorwerk or Thermomix in Australia. None of the recipes that appear here are tested or approved by Thermomix Australia or Vorwerk. Any thoughts expressed on this site are the authors own and are not sponsored by products unless clearly stated. Any nutritional values published on this website are general indications only, for more definitive stats use the panels provided on your products.
If you (your fur babies!) enjoyed this recipe then please consider leaving a comment.  It's always refreshing to see comments from people that have tried a recipe and found it a success or tweaked it to suit.
If you have a favourite recipe to share than please contact us and you could be featured in one of our Member Spotlights! We love to share!!!  
Click Here for more great recipes in a number of e-cookbooks – containing recipes to suit everyone.