Jump to recipe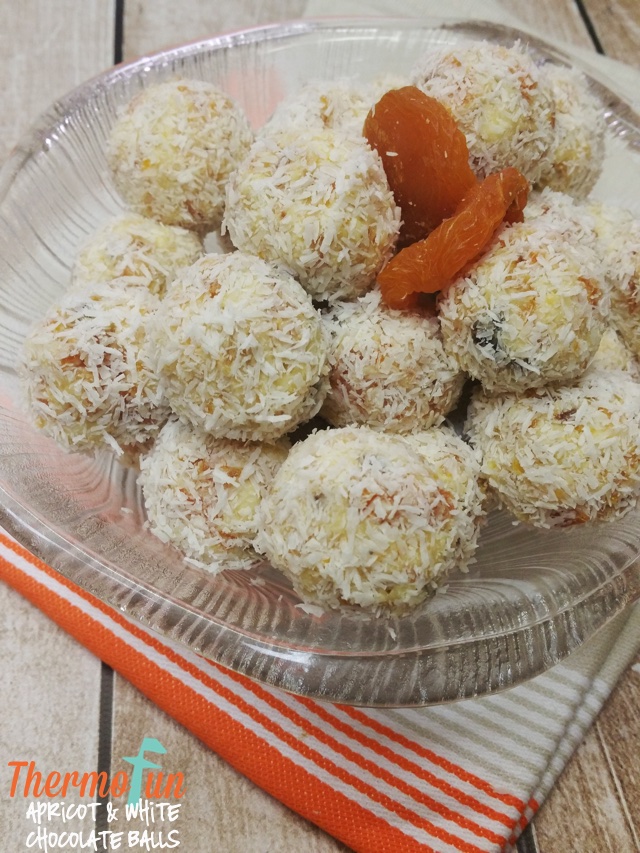 This recipe arrived in my inbox - geez how many recipe sites do I belong too?! - anyway it had dried apricots in it!  That immediately sparked my interest and then it mentioned Chocolate - ummmm that was it!  I printed it out and I was on a mission.  :)
What else was I meant to do - dried apricots (love) + chocolate (love) a match made in heaven and I was NOT disappointed at the end result.  Neither were the rest of the family and friends that helped me eat them!
For recipes using left-over condensed milk Click Here.
Ingredients
100g white chocolate melts
200g dried apricots
200g condensed milk
35g icing sugar
60g coconut, desiccated
1 teaspoon orange zest
extra coconut for rolling
Instructions
Place chocolate into TM bowl and grate

3 sec / speed 7

. Set aside.
Place apricots into TM bowl and chop

8 sec / speed 8

.
Add remaining ingredients including the chocolate and mix together

8 sec / speed 5

. Scrape down and mix

5 sec / speed 5

.
Cover and refrigerate for awhile (this just makes rolling a little easier).
Roll into small balls and roll into coconut.
Keep refrigerated until needed.
Notes
These freeze well.
I converted this recipe from "Wendys Kitchen Table"

© 2023 Copyright, Legal Notice and Disclaimer: Design, photography and text copyright © ThermoFun 2014-2021. Tips and tricks within are the work of the author or nominated parties who have no association with Vorwerk or Thermomix in Australia and therefore are not official, or have the approval of Vorwerk or Thermomix in Australia. None of the recipes that appear here are tested or approved by Thermomix Australia or Vorwerk. Any thoughts expressed on this site are the authors own and are not sponsored by products unless clearly stated. Any nutritional values published on this website are general indications only, for more definitive stats use the panels provided on your products.
Click Here for more great recipes in a number of e-cookbooks – containing recipes to suit everyone.
If you have enjoyed this recipe then please consider leaving a comment.  It's always refreshing to see comments from people that have tried a recipe and found it a success or tweaked it to suit.