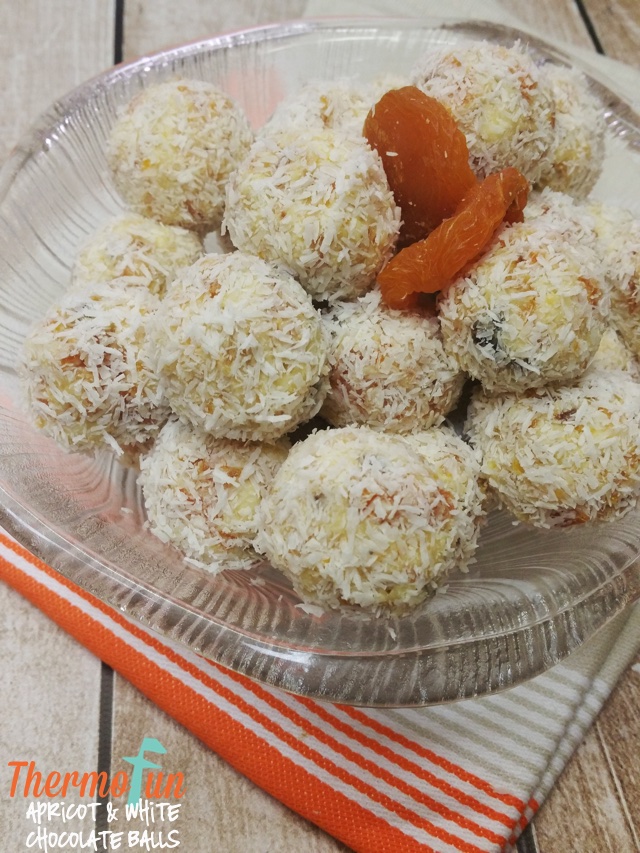 This recipe arrived in my inbox – geez how many recipe sites do I belong too?! – anyway it had dried apricots in it!  That immediately sparked my interest and then it mentioned Chocolate – ummmm that was it!  I printed it out and I was on a mission.  🙂
What else was I meant to do – dried apricots (love) + chocolate (love) a match made in heaven and I was NOT disappointed at the end result.  Neither were the rest of the family and friends that helped me eat them!
For recipes using left-over condensed milk Click Here.
ThermoFun – Apricot & White Chocolate Balls Recipe
Ingredients
100g white chocolate melts
200g dried apricots
200g condensed milk
35g icing sugar
60g coconut, desiccated
1 tsp orange zest
extra coconut for rolling
Instructions
Place chocolate into TM bowl and grate

3 sec / speed 7

. Set aside.
Place apricots into TM bowl and chop

8 sec / speed 8

.
Add remaining ingredients including the chocolate and mix together

8 sec / speed 5

. Scrape down and mix

5 sec / speed 5

.
Cover and refrigerate for awhile (this just makes rolling a little easier).
Roll into small balls and roll into coconut.
Keep refrigerated until needed.
Notes
These freeze well.
I converted this recipe from "Wendys Kitchen Table"

Click Here for more great recipes in a number of e-cookbooks – containing recipes to suit everyone.
If you have enjoyed this recipe then please consider leaving a comment.  It's always refreshing to see comments from people that have tried a recipe and found it a success or tweaked it to suit.