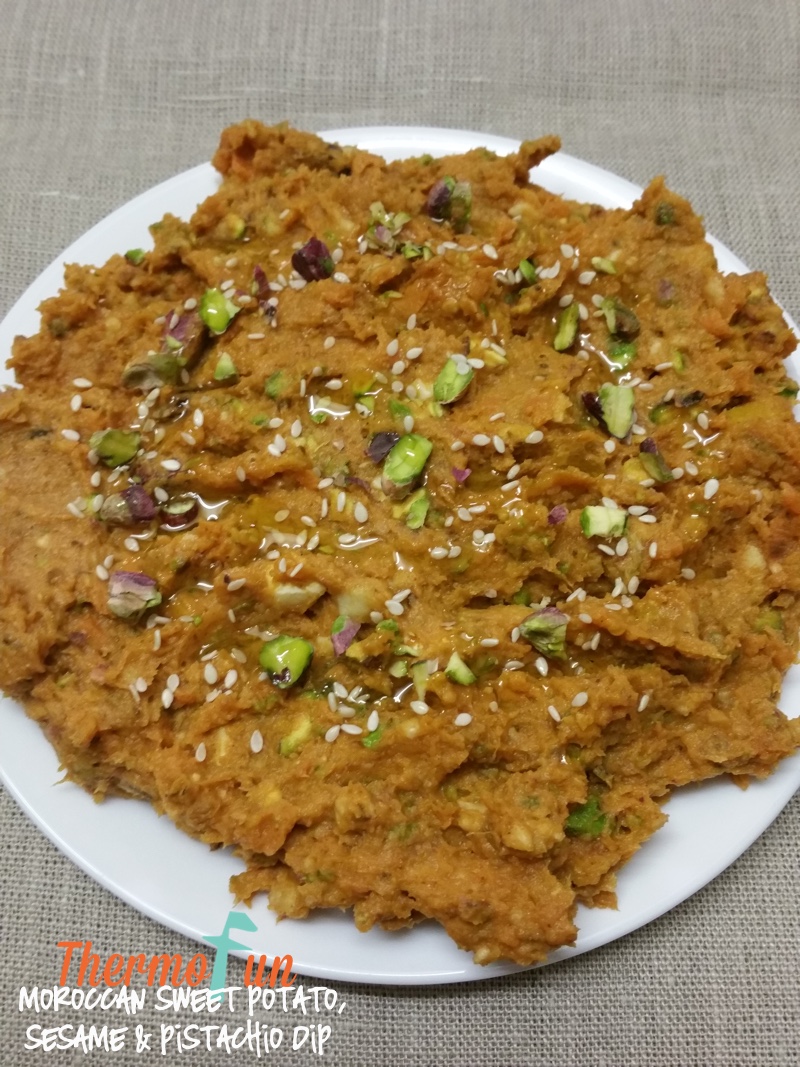 They say a picture is worth a 1000 words and this might not look the best and it took me a little while to "pluck up the courage" to make it.  So here is the verdict! Do yourself the flavour (get it) and give this a go!
This dip has a great contrast with the sweet and the savoury flavours. I particularly enjoy the lovely crunch texture enhanced from the nuts.
Moroccan Sweet Potato, Sesame and Pistachio Dip
Ingredients
180g roasted sweet potato
2 garlic cloves peeled and roasted
10g olive oil
1 tsp Moroccan Spice
15g lemon juice
20g cashews
20g tahini
40g pistachio nuts (no shells)
sesame seeds for sprinkling on top
Instructions
Roast sweet potato and garlic in the oven.
Place all ingredients in TM bowl and chop

1 sec / turbo

. Scrape down and repeat until desired consistency.
Notes
I roast a head of garlic so I always have it on hand for recipes like this. I break the cloves apart but leave the skins on. I top up my stash I keep in the fridge whenever I use the oven for something. Roasting brings out a lovely sweet caramelised flavour that isn't as harsh as raw garlic in recipes that aren't cooked.
http://thermofun.com/moroccan-sweet-potato-sesame-pistachio-dip/
Copyright, Legal Notice and Disclaimer: Design, photography and text copyright © ThermoFun 2014-2018. Tips and tricks within are the work of the author or nominated parties who have no association with Vorwerk or Thermomix in Australia and therefore are not official, or have the approval of Vorwerk or Thermomix in Australia. None of the recipes that appear here are tested or approved by Thermomix Australia or Vorwerk. Any thoughts expressed on this site are the authors own and are not sponsored by products unless clearly stated. Any nutritional values published on this website are general indications only, for more definitive stats use the panels provided on your products.
For more amazing dips why not check out this post with links to all the dips on my website Thermomix Dips by ThermoFun
For more decadent recipes delivered to your inbox every Monday make sure you become a ThermoFun Club Member.
Click Here for more great recipes in a number of e-cookbooks – containing recipes to suit everyone.
If you have enjoyed this recipe then please consider leaving a comment.  It's always refreshing to see comments from people that have tried a recipe and found it a success or tweaked it to suit.