IMPORTANT TIP over all the other tips that I provide:
ALWAYS check that you have your base attached to your bowl BEFORE you put liquid or food into your Thermomix!  NB: the Thermomix still actually works when the base is not attached to the bowl!
In the event that you pour liquid into your bowl without the base connected to the bowl there is a possibility that liquid can seep inside the actual unit.
WHAT TO DO FOR TM31 MODEL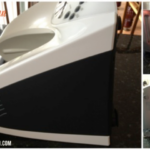 If you think this may be the case; unplug the Thermomix from the powerpoint and lay the Thermomix unit on its BACK (for at least a few hours), so any fluid that may have got inside can drain to the back of the machine away from any of the electrics.
There are a number of air vents on the base of the machine, so by laying it on its back encourages airflow into the unit to dry out any moisture that may have got into the unit.
After a few hours plug your machine in and hopefully all will be good.  If it does not turn on or if it comes up with an error code, please contact your consultant and she/he will arrange for a service report to be submitted, as your machine may need to go to Thermie Hospital.  :(
WHAT TO DO FOR TM5 AND TM6 MODEL
If you get a spill inside a TM5 DO NOT LAY THE MACHINE ON ITS BACK!  The reason being the power board is at the back of the machine.   If you think you have liquid inside your TM5/TM6 leave it UPRIGHT for 48 hours to drain before turning the machine on.
A tip on avoiding this happening is to have ALL household members know that the bowl ONLY goes in the cradle FULLY assembled!
Please note:  The TM31 must now be using the GREEN seal which can be purchased from TM Australia.  Grey seals should NO longer be used, as they would definitely be more than two years old now.  Seals should be replaced every two years as instructed in your manual.