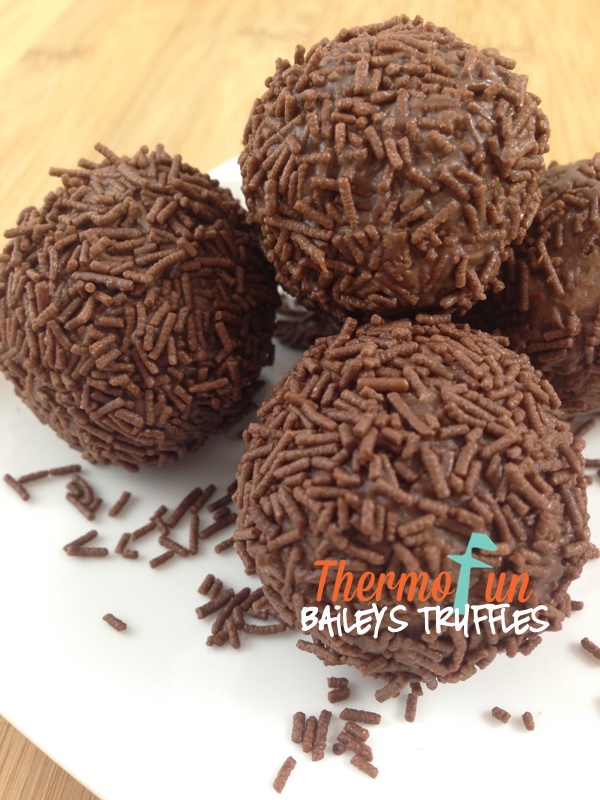 Yum!!!  🙂
Baileys and chocolate – can life get any better I wonder?!
ThermoFun – Baileys Truffles
Ingredients
200g dark chocolate melts
200g milk chocolate melts
90g thickened cream
100g chocolate sprinkles
Instructions
Place chocolate into TM bowl and grate

10 sec / speed 9

. Scrape down and melt

5 mins / 50°C / speed 2

.
Add cream and continue melting

3 mins / 50°C / speed 2

.
Add Baileys Irish Cream and continue melting

1 min / 50°C / speed 2

.
Pour into a bowl and place into refrigerator for a few hours.
Roll into balls and then roll in chocolate sprinkles to coat. Place back into fridge for

1 hour

.
To clean Thermomix bowl:
Pour a glass of milk into TM bowl and mix

5 sec / speed 8

.
Heat milk

5 mins / 80°C / speed 4

.
Enjoy warm chocolate milk. No wasted chocolate!
Notes
White, Milk or Dark Chocolate can be used for these truffles.
Baileys is a registered Trademark of R&A Bailey & Co.

And if you enjoy Baileys™ make sure you check out my other recipes using it:  Click Here  🙂
Click Here for more great recipes in a number of e-cookbooks – containing recipes to suit everyone.
If you have enjoyed this recipe then please consider leaving a comment.  It's always refreshing to see comments from people that have tried a recipe and found it a success or tweaked it to suit.