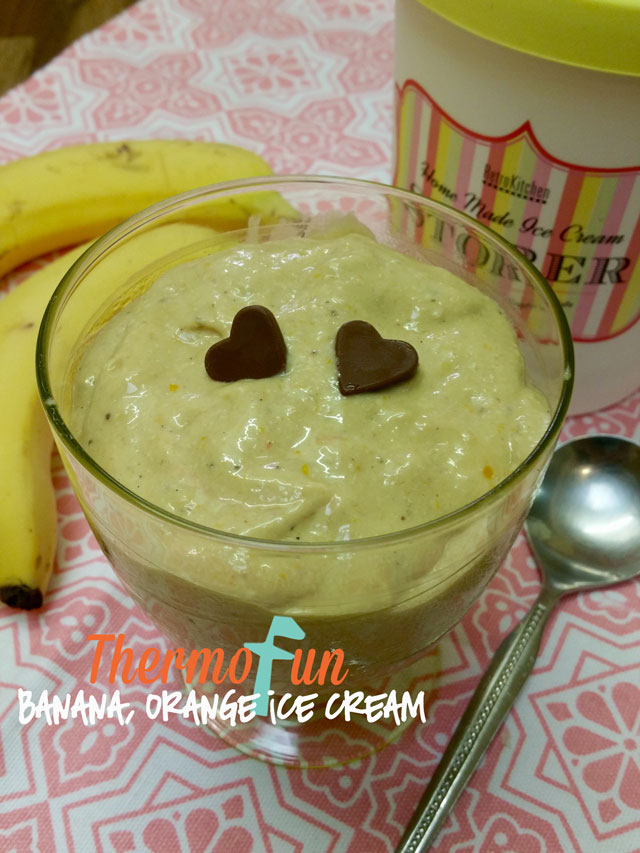 Ripe bananas on the bench because "Yes Mum I will eat bananas this week in my school lunch." Peel them cut them into pieces and throw them in the freezer for a few hours – Then get the kids to whip themselves up some "ice cream" in the Thermomix.
The refreshing flavour of the orange juice really sets this ice cream apart – making it a great "spur of the moment" or planned "treat after dinner".
The cashew add that extra creaminess to the ice cream but if you are nut free it works just as well otherwise.
If you're looking for a little "dressing up" serve with a sprinkle of choc chips.
Thermomix Banana & Orange Ice Cream - ThermoFun
Ingredients
3 frozen bananas, quartered
40g cashews, raw
finely grated rind of large orange
juice of one orange
Optional: sprinkle choc chips or grated chocolate
Instructions
Place all ingredients into TM bowl and puree

1 min / speed 10

.
Texture will be like a creamy soft serve ice cream.
Click Here for more great recipes in a number of e-cookbooks – containing recipes to suit everyone.
If you have enjoyed this recipe then please consider leaving a comment.  It's always refreshing to see comments from people that have tried a recipe and found it a success or tweaked it to suit.