Jump to recipe
The Thermomix is great for creating your own gourmet line of ice creams!
After converting the Baileys Irish Cream to be made in the Thermomix it was really only up to the imagination what I could use it for! I like - oh who am I kidding - LOVE ice cream so the only logical step was to create this... :)
This is the finished product, but I may have had a slight taste test very early in the morning before I ran out the door on my way to work!! I'm all about quality control! ;)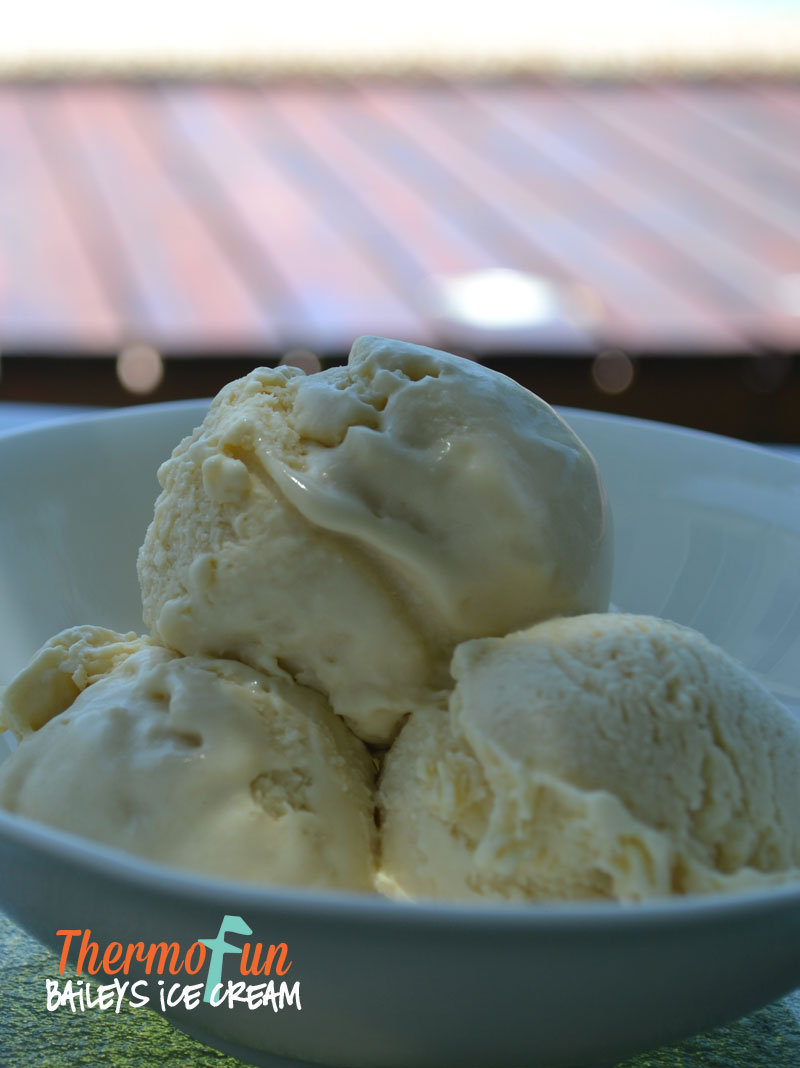 This ice cream works beautifully on its own, or you could accompany it with some chocolate mud cake, a cheesecake or even some cookie dough if you like. The choices really are only up to your imagination! :)
Instructions
Attach butterfly into TM bowl.
Set TM

1 min / speed 2

and while blades are moving, pour cream, vanilla and condensed milk through hole in TM lid.
Pour in Baileys Irish Cream and mix

30 sec / speed 2

.
Pour into ThermoServer (or other container suitable for ice cream).
Freeze overnight.
Then enjoy...
Notes
This recipe is based on the No churn ice cream from the BBC Good Food website converted for the thermomix.
If you are using your ThermoServer, place it in freezer with the lid OFF for a couple of hours to help the ice cream freeze.
Baileys is a registered Trademark of R&A Bailey & Co.

© 2023 Copyright, Legal Notice and Disclaimer: Design, photography and text copyright © ThermoFun 2014-2021. Tips and tricks within are the work of the author or nominated parties who have no association with Vorwerk or Thermomix in Australia and therefore are not official, or have the approval of Vorwerk or Thermomix in Australia. None of the recipes that appear here are tested or approved by Thermomix Australia or Vorwerk. Any thoughts expressed on this site are the authors own and are not sponsored by products unless clearly stated. Any nutritional values published on this website are general indications only, for more definitive stats use the panels provided on your products.
And if you enjoy Baileys™ make sure you check out my other recipes using it: Click Here :)
Click Here for more great recipes in a number of e-cookbooks – containing recipes to suit everyone.
If you have enjoyed this recipe then please consider leaving a comment. It's always refreshing to see comments from people that have tried a recipe and found it a success or tweaked it to suit.