Jump to recipe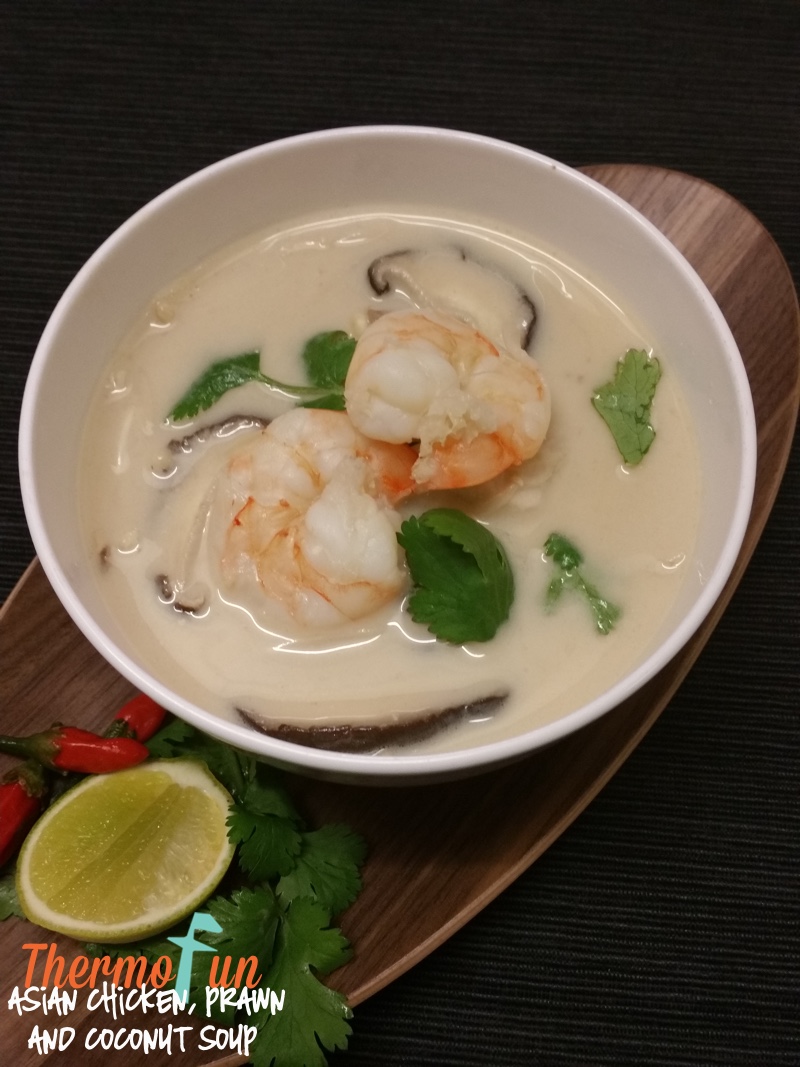 This soup is just so enjoyable with the tastes of lemongrass and kaffir lime leaves.
Ingredients
3cm fresh ginger
1 red chilli deseeded
700g chicken stock (see tip below) or 30g TM vegetable stock concentrate and 670g boiling water
400g coconut milk
40g fish sauce
50g lime juice (approx. 3 limes) - reserve the squeezed out halves
2 teaspoon brown sugar
1 lemongrass stem sliced in half length ways and bruised slightly
8 kaffir lime leaves
600g chicken thigh sliced
150g mixed Asian mushrooms (shitake or enoki)
12 raw prawns peeled
fresh coriander leaves to garnish
Instructions
Place ginger and chilli in TM bowl and chop

3 sec / speed 8

. Scrape down.
Add stock, coconut milk, fish sauce, lime juice and brown sugar.
Place simmering basket in TM bowl and put in the lemongrass stalks, lime (from squeezing) and kaffir lime leaves and cook

10 mins / 100°C / speed 1

.
Remove simmering basket and discard contents.
Place chicken in TM bowl and cook

13 mins / 100°C / speed soft / Reverse

.
Add prawns and mushrooms and cook

5 mins / 100°C / speed soft / Reverse

.
To serve, divide the soup among bowls, then serve garnished with coriander.
© 2023 Copyright, Legal Notice and Disclaimer: Design, photography and text copyright © ThermoFun 2014-2021. Tips and tricks within are the work of the author or nominated parties who have no association with Vorwerk or Thermomix in Australia and therefore are not official, or have the approval of Vorwerk or Thermomix in Australia. None of the recipes that appear here are tested or approved by Thermomix Australia or Vorwerk. Any thoughts expressed on this site are the authors own and are not sponsored by products unless clearly stated. Any nutritional values published on this website are general indications only, for more definitive stats use the panels provided on your products.
For more great recipes check out your Member Area here: ThermoFun Member Area
If you have enjoyed this recipe then please consider leaving a comment. It's always refreshing to see comments from people that have tried a recipe and found it a success or tweaked it to suit.