Jump to recipe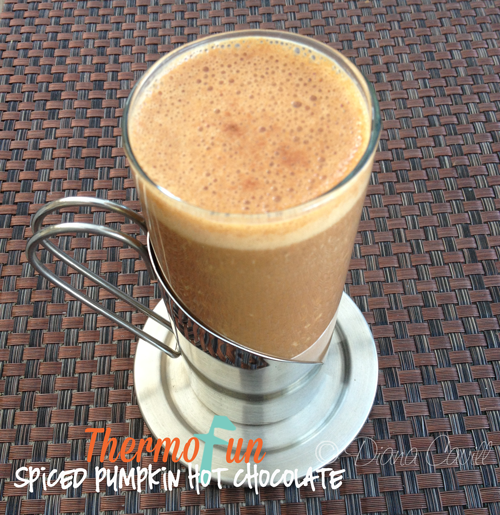 PUMPKIN in a Thermomix Hot Chocolate!  I can hear you all already ... and yes I was the same, but when Sue from Thelma and Souise set me a challenge to try this hot chocolate with pumpkin what could I do...
I had to stop the nagging, so I worked up the courage and made it!  Well I was amazed!!  I could not taste the pumpkin at all!!  It was sensational!
This makes approximately 3 mugs. The recipe can also be halved.
This would make a great late night small meal, especially for lactating mothers, as it is so nutritionally dense.  Would go very nicely with a lactation cookie too. :)
This is a great base recipe that you can adapt and use any type of milk you prefer e.g. almond milk or any type of sugar you prefer.  The spices too, could be altered to please your own personal taste.
If you have any leftovers you can make Spiced Pumpkin Hot Chocolate Puddings!
Ingredients
30g raw sugar
250g pumpkin, cubed
10g cocoa or raw cacao powder
1 teaspoon cinnamon, ground
1 teaspoon nutmeg, ground
1 teaspoon allspice, ground
500g milk
2 teaspoon ThermoFun Vanilla Bean Paste
Instructions
Place sugar into TM bowl and mill

10 sec / speed 9

.
Add pumpkin and chop

7 sec / speed 8

.
Add cocoa, cinnamon, nutmeg, allspice, milk and vanilla and cook

15 mins / 90°C / speed 2 / MC off

.
Blend

1 min / speed 9

.
Insert butterfly and froth

20 sec / speed 4

.
Sprinkle with cinnamon sugar on top and with whipped cream if desired.
© 2023 Copyright, Legal Notice and Disclaimer: Design, photography and text copyright © ThermoFun 2014-2021. Tips and tricks within are the work of the author or nominated parties who have no association with Vorwerk or Thermomix in Australia and therefore are not official, or have the approval of Vorwerk or Thermomix in Australia. None of the recipes that appear here are tested or approved by Thermomix Australia or Vorwerk. Any thoughts expressed on this site are the authors own and are not sponsored by products unless clearly stated. Any nutritional values published on this website are general indications only, for more definitive stats use the panels provided on your products.
For more "Thirsty Thursday" recipes Click Here
Click Here for more great recipes in a number of e-cookbooks – containing recipes to suit everyone.
If you have enjoyed this recipe then please consider leaving a comment.  It's always refreshing to see comments from people that have tried a recipe and found it a success or tweaked it to suit.