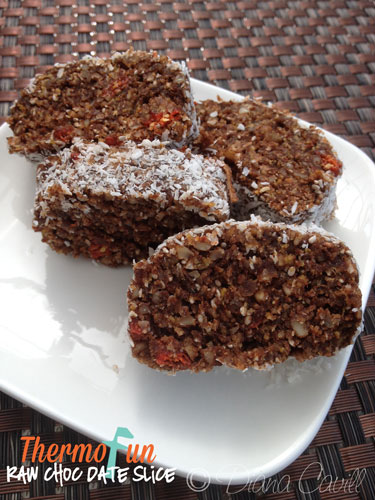 This is such a yummy healthy slice – I particularly like it with the Chia seeds in it.  Using your thermomix makes this very quick to 'whip' up for those unexpected guests as it doesn't need very long in the fridge to set.
ThermoFun – Raw Chocolate Date Slice Recipe
Ingredients
80g blanched almonds
130g dates
20g coconut, desiccated, plus extra for coating
10g cacao
35g water
10g chia seeds
Optional: 5g Goji berries
Instructions
Place almonds into TM bowl and mill

5 sec / speed 9

.
Add remaining ingredients and mix

10 sec / speed 2

.
Scrape down and continue to mix

4 sec / speed 5

.
Roll into a log, then roll in the extra coconut, flatten slightly and set in the fridge for half an hour.
Slice and enjoy.
Store in fridge.
Recipe adapted for Thermomix from Lifegain
Click Here for more great recipes in a number of e-cookbooks – containing recipes to suit everyone.
If you have enjoyed this recipe then please consider leaving a comment.  It's always refreshing to see comments from people that have tried a recipe and found it a success or tweaked it to suit.