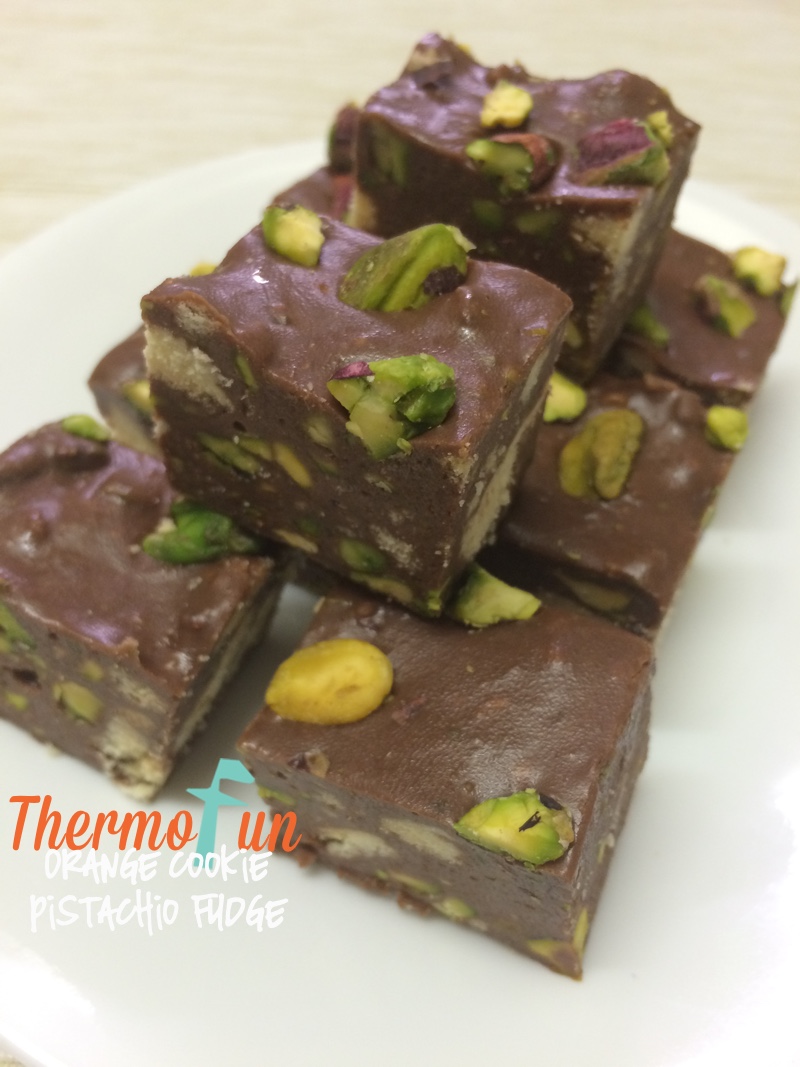 It's Wicked Wednesday again!  On the third Wednesday of every month I share with you a wicked recipe!  If you are new to ThermoFun make sure you check out my other Wicked Wednesday recipes.
I've always been a huge fan of orange flavour in chocolate!   Many of you know too that I'm a fan of fudge!  This recipe ticks all the right boxes for an irresistible and mouthwatering fudge!
Click Here for many more of my delectable fudge thermomix recipes.
Orange Cookie Pistachio Fudge - Wicked Wednesday - ThermoFun
Ingredients
200g Scotch Finger biscuits
80g pistachios, divided
200g chocolate melts (milk or dark or combination)
zest of 1 orange (using microplane or fine grater)
400g condensed milk
20g coconut oil
Instructions
Line a slice tin with baking paper.
Place biscuits into TM bowl and roughly chop

4 sec / speed 4

. Set aside.
Place pistachios into TM bowl and chop

2 sec / speed 7

. Set aside.
Place chocolate into TM bowl and grate

10 sec / speed 9

.
Add zest, condensed milk and oil into TM bowl and melt

3 mins / 50°C / speed 2

.
Scrape down and melt a further

1 min / 50°C / speed 2

.
Add biscuits and ¾ of the pistachios and mix

30 sec / speed 2 / Reverse

.
Pour into tin and sprinkle remaining pistachios on top and place in fridge for approx.

2 hours

.
Cut into pieces.
To clean Thermomix bowl:
Pour a glass of milk into TM bowl and mix

5 sec / speed 8

.
Heat milk

5 mins / 80°C / speed 4

.
Enjoy warm chocolate milk. No wasted chocolate!
Click Here for more great recipes in a number of e-cookbooks – containing recipes to suit everyone.
If you have enjoyed this recipe then please consider leaving a comment.  It's always refreshing to see comments from people that have tried a recipe and found it a success or tweaked it to suit.