Jump to recipe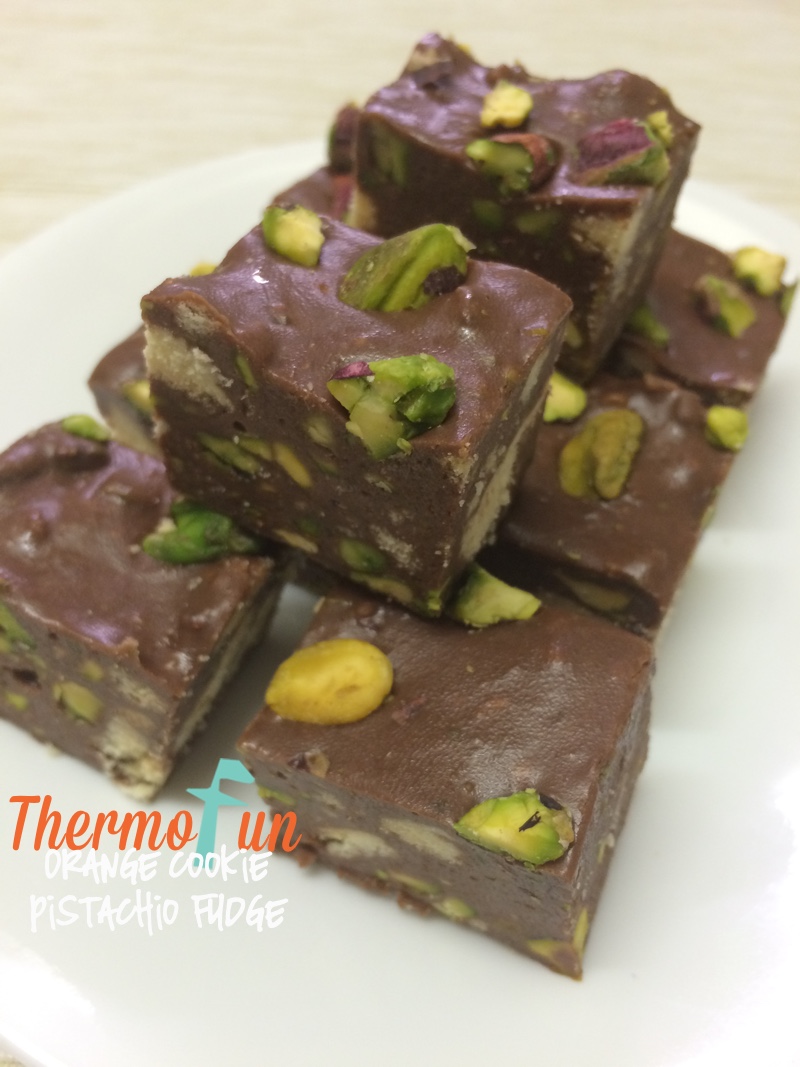 It's Wicked Wednesday again! On the third Wednesday of every month I share with you a wicked recipe! If you are new to ThermoFun make sure you check out my other Wicked Wednesday recipes.
I've always been a huge fan of orange flavour in chocolate! Many of you know too that I'm a fan of fudge! This recipe ticks all the right boxes for an irresistible and mouthwatering fudge!
Click Here for many more of my delectable fudge thermomix recipes.
Ingredients
200g Scotch Finger biscuits
80g pistachios, divided
200g chocolate melts (milk or dark or combination)
zest of 1 orange (using microplane or fine grater)
400g condensed milk
20g coconut oil
Instructions
Line a slice tin with baking paper.
Place biscuits into TM bowl and roughly chop

4 sec / speed 4

. Set aside.
Place pistachios into TM bowl and chop

2 sec / speed 7

. Set aside.
Place chocolate into TM bowl and grate

10 sec / speed 9

.
Add zest, condensed milk and oil into TM bowl and melt

3 mins / 50°C / speed 2

.
Scrape down and melt a further

1 min / 50°C / speed 2

.
Add biscuits and ¾ of the pistachios and mix

30 sec / speed 2 / Reverse

.
Pour into tin and sprinkle remaining pistachios on top and place in fridge for approx.

2 hours

.
Cut into pieces.
To clean Thermomix bowl:
Pour a glass of milk into TM bowl and mix

5 sec / speed 8

.
Heat milk

5 mins / 80°C / speed 4

.
Enjoy warm chocolate milk. No wasted chocolate!
© 2023 Copyright, Legal Notice and Disclaimer: Design, photography and text copyright © ThermoFun 2014-2021. Tips and tricks within are the work of the author or nominated parties who have no association with Vorwerk or Thermomix in Australia and therefore are not official, or have the approval of Vorwerk or Thermomix in Australia. None of the recipes that appear here are tested or approved by Thermomix Australia or Vorwerk. Any thoughts expressed on this site are the authors own and are not sponsored by products unless clearly stated. Any nutritional values published on this website are general indications only, for more definitive stats use the panels provided on your products.
Click Here for more great recipes in a number of e-cookbooks – containing recipes to suit everyone.
If you have enjoyed this recipe then please consider leaving a comment. It's always refreshing to see comments from people that have tried a recipe and found it a success or tweaked it to suit.