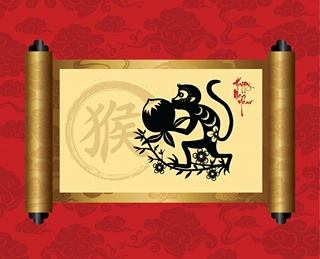 Happy New Year to all of you that celebrate the Chinese New Year.  This year it is the year of the Monkey.  This means people that were born in the years of 1932, 1944, 1956, 1968, 1980, 1992 are known as quick-witted, charming, lucky, adaptable, bright, versatile, lively and smart.
What does your Chinese zodiac sign mean?
In Chinese astrology, the 12 animal zodiac signs each have unique characteristics.
Rat: Intelligent, adaptable, quick-witted, charming, artistic, sociable.
Ox: Loyal, reliable, thorough, strong, reasonable, steady, determined.
Tiger: Enthusiastic, courageous, ambitious, leadership, confidence, charismatic.
Rabbit: Trustworthy, empathic, modest, diplomatic, sincere, sociable, caretakers.
Dragon: Lucky, flexible, eccentric, imaginative, artistic, spiritual, charismatic.
Snake: Philosophical, organized, intelligent, intuitive, elegant, attentive, decisive.
Horse: Adaptable, loyal, courageous, ambitious, intelligent, adventurous, strong.
Sheep: Tasteful, crafty, warm, elegant, charming, intuitive, sensitive, calm.
Monkey: Quick-witted, charming, lucky, adaptable, bright, versatile, lively, smart.
Rooster: Honest, energetic, intelligent, flamboyant, flexible, diverse, confident.
Dog: Loyal, sociable, courageous, diligent, steady, lively, adaptable, smart.
Pig: Honorable, philanthropic, determined, optimistic, sincere, sociable.
I wonder what Chinese zodiac sign you are?  I was born in the year of the horse – and no it wasn't 1930, 1942 or 1954….
I have quite a few recipes on my site which would be most suitable to celebrate the New Year.
Chicken Unfried Rice
http://www.thermofun.com/chinese-new-year-chicken-unfried-rice

Asian Style Steamed Fish
http://thermofun.com/thermofun-asian-style-steamed-fish-recipe/

Honey Lime and Ginger Chicken – 2016 ThermoFun Members e-cookbook

Lemon Chicken – 2015 ThermoFun members e-cookbook

Steam Pork Dumplings
http://thermofun.com/thermofun-steam-pork-dumplings-recipe/

Sweet and Sour Chicken with Vegetables
http://thermofun.com/sweet-sour-chicken-with-vegetables/

Vietnamese Style Chicken Balls
http://thermofun.com/thermofun-member-spotlight-vietnamese-style-chicken-balls/
 
I'd love to hear from you in the comments below what is your favourite ThermoFun Chinese recipe?
Click Here for more great recipes in a number of e-cookbooks – containing recipes to suit everyone.