Today is WORLD CHOCOLATE DAY!!   So of course I have to give you a new chocolate recipe!!  🙂
Oh the joys of playing with chocolate again!  This thermomix caramello fudge is delicious!!!!!!  It's amazingly easy and is perfect for the kids to make while on school holidays!  Because sometimes Mums/Dads need a little help to get through those days!
This is a great base recipe too, if you aren't into Caramello  you can certainly sub out your favourite!
I've tried Rum & Raisin and Fruit and Nut and also Mint!   😀
If you need something extra to make with the half tin of condensed milk then check these recipes: Condensed Milk Recipes
If you are looking for more fudge recipes – check these out: ThermoFun Fudge Recipes
More great chocolate recipes 😀 – check these out! ThermoFun Chocolate Recipes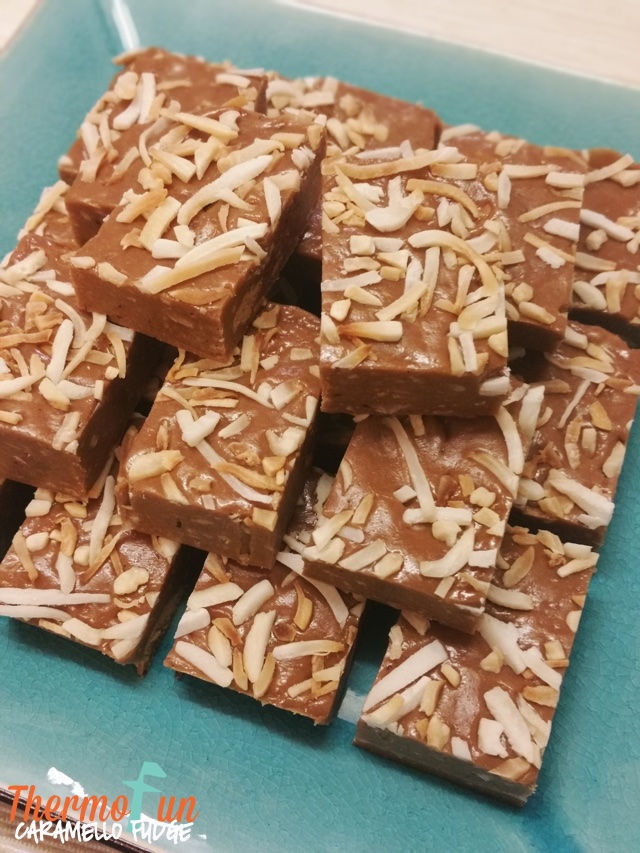 Caramello Fudge - ThermoFun
Ingredients
150g malt biscuits
200g Caramello chocolate, broken into chunks
200g (half tin) condensed milk
30g coconut oil
30g coconut, shredded
Instructions
Line a loaf tin with baking paper.
Place biscuits into TM bowl and chop

10 sec / speed 10

. Set aside in a large bowl.
Place chocolate into TM bowl and chop

10 sec / speed 9

.
Add condensed milk, oil, vanilla and coconut and mix

5 mins / 50°C / speed 1

.
Pour chocolate into bowl with biscuits and combine.


NB

: mixture is too thick to do this in the TM.
Press into tin and refrigerate until set.
Notes
Variations:
• spread or drizzle melted chocolate over the top or sprinkle with toasted coconut.
• swap the Caramello with other chocolates eg. Mint, Rum & Raisin or Fruit & Nut.
* recipe can be doubled if wanting to use whole can of condensed milk.

Click Here for more great recipes in a number of e-cookbooks – containing recipes to suit everyone.
If you have enjoyed this recipe then please consider leaving a comment.  It's always refreshing to see comments from people that have tried a recipe and found it a success or tweaked it to suit.