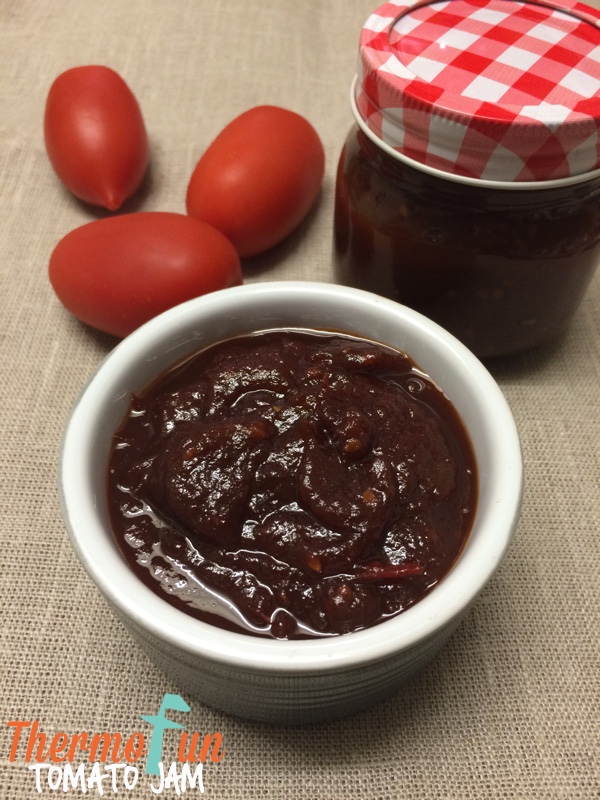 Beautiful on crackers with cheese.  As a condiment on a sandwich, wrap or burger.  Served along side a meatloaf or patties, bacon and eggs or inside a cheese toastie.  This is a beautiful vegan alternative to my ever popular bacon jam.
Tomato Jam Recipe – (Bacon Jam's Vegan Sister)
Ingredients
1 medium onion, peeled and halved
1000g Roma tomatoes, halved
50g brown sugar
140g raw sugar
1 tsp salt
½ tsp coriander, ground
¼ tsp cinnamon, ground
¼ tsp cloves, ground
¼ tsp cumin, ground
⅛-¼ tsp chilli, powder
40g apple cider vinegar
25g lemon juice
Instructions
Place onion into TM bowl and chop

3 sec / speed 5

.
Add tomatoes and chop

5 sec / speed 5

.
Add remaining ingredients and mix

5 sec / speed 2

.
Cook

60 mins / 100°C / speed 2 / Reverse / MC off

, placing simmering basket onto TM lid to prevent spatter.
Continue cooking

15 mins / Varoma / speed 2 / Reverse / MC off

, placing simmering basket onto TM lid to prevent spatter.
Check consistency of jam. Add an additional

10 mins

cooking time if required.
http://thermofun.com/tomato-jam-recipe-bacon-jams-vegan-sister/
Copyright, Legal Notice and Disclaimer: Design, photography and text copyright © ThermoFun 2014-2018. Tips and tricks within are the work of the author or nominated parties who have no association with Vorwerk or Thermomix in Australia and therefore are not official, or have the approval of Vorwerk or Thermomix in Australia. None of the recipes that appear here are tested or approved by Thermomix Australia or Vorwerk. Any thoughts expressed on this site are the authors own and are not sponsored by products unless clearly stated. Any nutritional values published on this website are general indications only, for more definitive stats use the panels provided on your products.
For more decadent recipes delivered to your inbox make sure you become a ThermoFun Club Member.
Click Here for more great recipes in a number of e-cookbooks – containing recipes to suit everyone.
If you have enjoyed this recipe then please consider leaving a comment.  It's always refreshing to see comments from people that have tried a recipe and found it a success or tweaked it to suit.