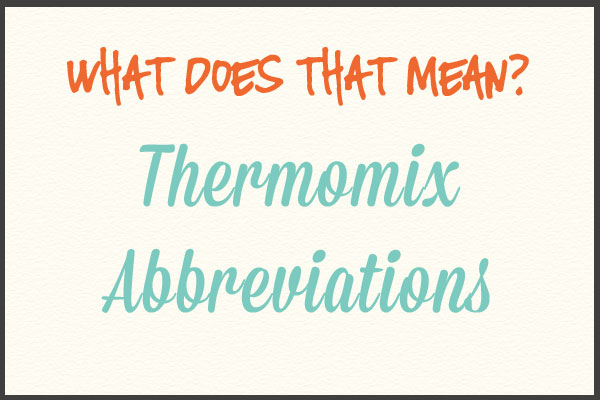 As we are all aware Thermomix can be known as having a language all of its own!
So just to make life a little easier for new owners – here is a list of the most commonly used acronyms.
BBL = Bowl, blade and lid set
BCB - Basic Cookbook (TM5)
DF = Dairy Free,
EDC = Every Day Cookbook (TM31)
GF = Gluten Free
MC = Measuring Cup
RC = Recipe Community
TM = Thermomix
TM21 = earlier model Thermomix
TM31 = earlier model Thermomix
TM5 = previous model Thermomix
TM6 = current model Thermomix
TS = ThermoServer
TTS = Time Temperature Speed
FOOD:
ACV = Apple Cider Vinegar,
CADA = Coconut, Almonds, Dates, Apple
EVOO = Extra Virgin Olive Oil
S&P = Salt and Pepper
VSC = Vegetable Stock Concentrate
FOOD DIET TERMS:
FD = Fast Day
LCHF = Low Carb High Fat
NFD = Non Fast Day
WOE = Way of Eating
WOL = Way of Life
If you have seen some common abbreviations used that aren't listed here, please let me know and I will add them. It's always nice to know what everyone is talking about.
For more great tips and recipes on using your thermomix join our free monthly newsletter here:  ThermoFun Newsletter Subscription.
Click Here for many great recipes in a number of e-cookbooks – containing recipes to suit everyone.