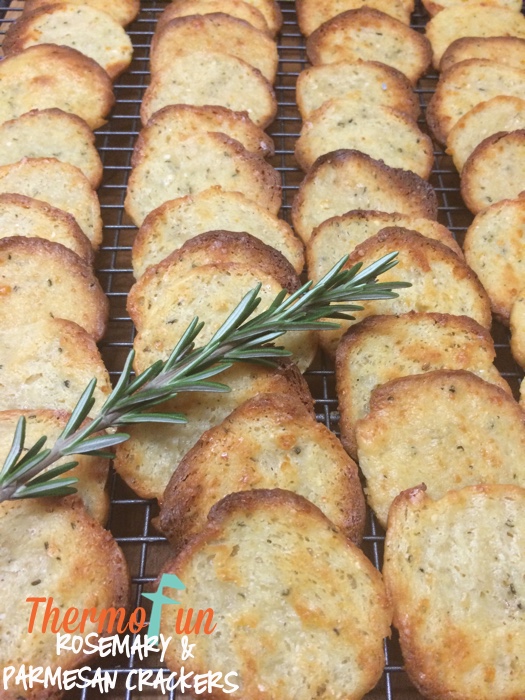 These crackers are addictive!  The first time I made them, once I had removed them from the oven I could not stop eating them!  I literally got to the point where I had to remove the wire rack they were cooling on into another room so I would stop eating them!  I hope you enjoy them as much as we do.  Very quick and easy to whip up in your Thermomix.
Click Here for my Cheese Crackers recipe.
Rosemary and Parmesan Crackers Recipe
Ingredients
120g parmesan cheese, cubed
150g plain flour
2 tsp rosemary fresh or 1 tsp dried
1 tsp salt
large pinch white pepper
60g butter, chilled and cubed
160g sour cream
Instructions
Place cheese into TM bowl and grate

5 sec / speed 9

. Set aside.
Place flour, rosemary, salt and pepper into TM bowl and mix

10 sec / speed 7

.
Add butter and mix

10 sec / speed 7

.
Add cheese and sour cream and combine

5 sec / speed 7

.
Empty dough onto a sheet of baking paper and form it into a tightly rolled log approx. 5cm in diameter. Wrap the baking paper tightly around it and allow to set in fridge

min 4 hours

or in freezer 2 hours.
When ready to bake, preheat oven to

180°C

. Line a large tray with baking paper.
Using a sharp knife, slice the log into crackers approx. 2-3mm thickness and lay each onto tray.
Bake for

25-30 mins

, turning them over at the

15 min mark

.
Check that the crackers have slightly darker edges and are cooked in the centre.
Allow to cool on a wire rack.
Notes
Keep a close eye on them towards the end of cooking time. Some of the crackers on the outside edges of the tray are ready before the central ones. Remove these if so to prevent burning.

Click Here for more great recipes in a number of e-cookbooks – containing recipes to suit everyone.
If you have enjoyed this recipe then please consider leaving a comment.  It's always refreshing to see comments from people that have tried a recipe and found it a success or tweaked it to suit.