Jump to recipe
Now this recipe is not new but an adaptation of this one - ThermoFun Tuna Cakes.  It came about when I had some left over mash but I just wanted something different than the normal Tuna Cakes.  So I went to my trusty spice rack and decided that a mexican twist is just what these patties needed!  Voila we have thermomix mexican tuna patties/cakes.  :)
Taking one standard dish and creating a new take on it!  I love this style of cooking!  It means that the cookbook shelves aren't overloaded with 30 different ways to make something and your pantry doesn't need to be a whole extra room!  Which means -  money in your pocket to buy more spatulas - you know you can never have too many spatulas - just ask my Funkies!  :)
Why not try your favourite ThermoFun Spice and let us know what you think!
And if you can't find a ripe avocado - then give this a try!  Tomato Chutney!  YUM! or even some Salsa!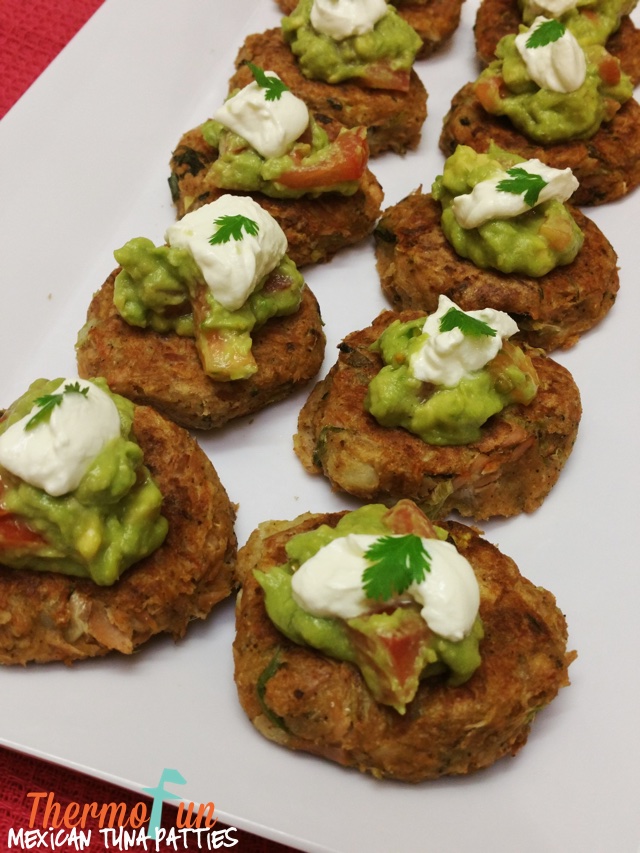 Ingredients
300g potatoes, cut into 2cm cubes
900g boiling water from kettle
6 spring onions, quartered
handful fresh coriander
425g can tuna, drained
4 teaspoon ThermoFun Taco Seasoning
salt and pepper, to taste
1 egg, beaten with a fork
olive oil
Instructions
Place potatoes into simmering basket and lower into TM bowl. Add boiling water and cook

16 mins / Varoma / speed 1

.
Carefully remove simmering basket and set potatoes aside. Discard water from TM bowl.
Place spring onions and coriander into TM bowl and chop

4 sec / speed 5

.
Add potatoes, tuna, taco seasoning, salt and pepper and mix

4 sec / speed 3

. Scrape down and repeat.
Form mixture into approx. 12 patties and brush tops and bottoms with egg.
Add a small amount of oil to a frypan on medium heat. Fry patties

3-4 mins

on both sides (or until golden brown). Place onto paper towel to drain off excess oil.
Serve with guacamole, salsa, sour cream and salad. Another great option is Tomato Chutney
© 2023 Copyright, Legal Notice and Disclaimer: Design, photography and text copyright © ThermoFun 2014-2021. Tips and tricks within are the work of the author or nominated parties who have no association with Vorwerk or Thermomix in Australia and therefore are not official, or have the approval of Vorwerk or Thermomix in Australia. None of the recipes that appear here are tested or approved by Thermomix Australia or Vorwerk. Any thoughts expressed on this site are the authors own and are not sponsored by products unless clearly stated. Any nutritional values published on this website are general indications only, for more definitive stats use the panels provided on your products.
Click Here for more great recipes in a number of e-cookbooks – containing recipes to suit everyone.
If you have enjoyed this recipe then please consider leaving a comment.  It's always refreshing to see comments from people that have tried a recipe and found it a success or tweaked it to suit.