We all know that having a meal plan is a real time saver, but how do you choose from over 10,000+ thermomix recipes!  Don't!  Just download the ThermoFun – Thermomix Meal Plans and you have your dinners sorted!  🙂
THERMOFUN MEAL PLAN AUGUST 2018
To see all the recipes in this month's meal plan Click Here
THERMOFUN MEAL PLAN JULY 2018
To see all the recipes in this month's meal plan Click Here
THERMOFUN MEAL PLAN JUNE 2018
To see all the recipes in this month's meal plan Click Here
THERMOFUN MEAL PLAN MAY 2018
To see all the recipes in this month's meal plan Click Here
THERMOFUN MEAL PLAN APRIL 2018
To see all the recipes in this month's meal plan Click Here
THERMOFUN MEAL PLAN MARCH 2018
To see all the recipes in this month's meal plan Click Here
THERMOFUN MEAL PLAN FEBRUARY 2018
To see all the recipes in this month's meal plan Click Here
THERMOFUN MEAL PLAN JANUARY 2018
To see all the recipes in this month's meal plan Click Here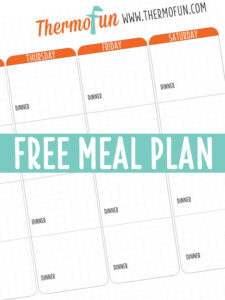 THERMOFUN MEAL PLAN DECEMBER 2017
To see all the recipes in this month's meal plan Click Here
THERMOFUN MEAL PLAN NOVEMBER 2017
To see all the recipes in this month's meal plan Click Here
THERMOFUN MEAL PLAN OCTOBER 2017
To see all the recipes in this month's meal plan Click Here

THERMOFUN MEAL PLAN SEPTEMBER 2017
To see all the recipes in this month's meal plan Click Here
 
THERMOFUN MEAL PLAN AUGUST 2017
To see all the recipes in this month's meal plan Click Here
 
THERMOFUN MEAL PLAN JULY 2017
To see all the recipes in this month's meal plan Click Here

THERMOFUN MEAL PLAN JUNE 2017
To see all the recipes in this month's meal plan Click Here
 
THERMOFUN MEAL PLAN MAY 2017
To see all the recipes in this month's meal plan Click Here
 
THERMOFUN MEAL PLAN APRIL 2017
To see all the recipes in this month's meal plan Click Here
THERMOFUN MEAL PLAN APRIL 2017 – (APRIL FOOLS DAY!) 🙂
To see all the recipes in this month's meal plan Click Here
THERMOFUN MEAL PLAN MARCH 2017
To see all the recipes in this month's meal plan Click Here
THERMOFUN MEAL PLAN FEBRUARY 2017
To see all the recipes in this month's meal plan Click Here
 
THERMOFUN MEAL PLAN JANUARY 2017
To see all the recipes in this month's meal plan Click Here

THERMOFUN MEAL PLAN DECEMBER 2016
To see all the recipes in this month's meal plan Click Here
 
THERMOFUN MEAL PLAN NOVEMBER 2016
To see all the recipes in this month's meal plan Click Here

THERMOFUN MEAL PLAN OCTOBER 2016
To see all the recipes in this month's meal plan Click Here
THERMOFUN MEAL PLAN SEPTEMBER 2016
To see all the recipes in this month's meal plan Click Here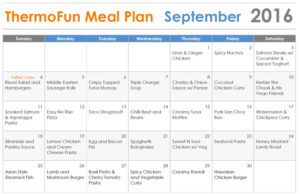 THERMOFUN MEAL PLAN AUGUST 2016
To see all the recipes in this month's meal plan Click Here
THERMOFUN MEAL PLAN JULY 2016
To see all the recipes in this month's meal plan Click Here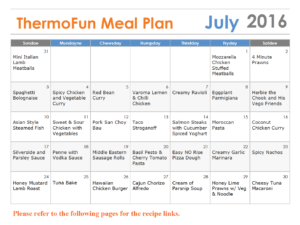 THERMOFUN MEAL PLAN JUNE 2016
To see all the recipes in this month's meal plan, download PDF Version here: ThermoFun June Meal Plan 2016
THERMOFUN MEAL PLAN MAY 2016
To see all the recipes in this month's meal plan, download PDF Version here: ThermoFun May Meal Plan 2016
THERMOFUN MEAL PLAN 4 REALZ APRIL 2016
To see all the recipes in this month's meal plan, download PDF Version here: ThermoFun REAL April Meal Plan 2016
THERMOFUN MEAL PLAN APRIL 2016 (April Fools Day)
To see all the recipes in this month's meal plan, download PDF Version here: ThermoFun April Meal Plan 2016

To see all the recipes in this month's meal plan, download PDF Version here: ThermoFun March Meal Plan 2016
THERMOFUN MEAL PLAN FEBRUARY 2016
To see all the recipes in this month's meal plan, download PDF Version here: ThermoFun February Meal Plan 2016
THERMOFUN MEAL PLAN JANUARY 2016
To see all the recipes in this month's meal plan, download PDF Version here: ThermoFun January Meal Plan 2016 
THERMOFUN MEAL PLAN DECEMBER 2015
To see all the recipes in this month's meal plan, download PDF Version here: ThermoFun December Meal Plan 2015 
THERMOFUN MEAL PLAN NOVEMBER 2015
To see all the recipes in this month's meal plan, download PDF Version here: ThermoFun November Meal Plan 2015 
PAST MEAL PLANS
THERMOFUN MEAL PLAN OCTOBER 2015
To see all the recipes in this month's meal plan, download PDF Version here: ThermoFun October Meal Plan 2015 
THERMOFUN MEAL PLAN SEPTEMBER 2015
To see all the recipes in this month's meal plan, download PDF Version here: ThermoFun September Meal Plan 2015 
THERMOFUN MEAL PLAN AUGUST 2015
Download PDF Version here: ThermoFun August Meal Plan 2015 
THERMOFUN MEAL PLAN JULY 2015
Download PDF Version here: ThermoFun July Meal Plan 2015
THERMOFUN MEAL PLAN JUNE 2015
Download PDF Version here: ThermoFun June Meal Plan 2015
THERMOFUN MEAL PLAN MAY 2015
Download PDF Version here: ThermoFun May Meal Plan 2015
 THERMOFUN MEAL PLAN APRIL 2015  (non April Fools Day version!)
Download PDF Version here: ThermoFun April Meal Plan 2015
THERMOFUN MEAL PLAN APRIL 2015  (April Fools Day version!)
Download PDF Version here: ThermoFun April Meal Plan 2015
THERMOFUN MEAL PLAN MARCH 2015
Download PDF Version here: ThermoFun March Meal Plan 2015
THERMOFUN MEAL PLAN FEBRUARY 2015
Download PDF Version here: ThermoFun February Meal Plan 2015
THERMOFUN MEAL PLAN JANUARY 2015
Download PDF Version here: ThermoFun January Meal Plan 2015
THERMOFUN MEAL PLAN DECEMBER 2014
Download PDF Version here: ThermoFun December Meal Plan 2014
THERMOFUN MEAL PLAN NOVEMBER 2014
Download PDF Version here: ThermoFun November Meal Plan 2014
THERMOFUN MEAL PLAN OCTOBER 2014
Download PDF Version here: ThermoFun October Meal Plan 2014
THERMOFUN MEAL PLAN SEPTEMBER 2014
Download PDF Version here: ThermoFun September Meal Plan 2014
THERMOFUN MEAL PLAN AUGUST 2014
Download PDF Version here: ThermoFun August Meal Plan 2014
THERMOFUN MEAL PLAN JULY 2014
Download PDF Version here: ThermoFun July Meal Plan 2014
THERMOFUN MEAL PLAN JUNE 2014
Download PDF Version here: ThermoFun June Meal Plan 2014
THERMOFUN MEAL PLAN MAY 2014
Download PDF Version here: ThermoFun May Meal Plan 2014
THERMOFUN MEAL PLAN APRIL 2014
Download PDF Version here: ThermoFun Meal April 2014
THERMOFUN MEAL PLAN MARCH 2014
Download PDF Version here: ThermoFun Meal March 2014
THERMOFUN MEAL PLAN FEBRUARY 2014
Download PDF Version here: ThermoFun Meal February 2014
THERMOFUN MEAL PLAN JANUARY 2014
Download PDF Version here: ThermoFun January EDC Meal Plan
If you're still stuck for ideas why not join the ThermoFun Club!
Where you get a new recipe in your inbox every week for the Calendar year – that's a minimum 52 recipes!   (You will have access to all recipes already issued for the year no matter when you join).  🙂
Plus you have FREE Access to over 50 documents containing meal ideas and more.
Be involved in Cook Alongs for ThermoFun members only.
Be in a private facebook group for ThermoFun members only.
Where do you sign up? Head to our Club Membership section and join today!
For more great tips and recipes on using your thermomix join our free monthly newsletter here:  ThermoFun Newsletter Subscription.