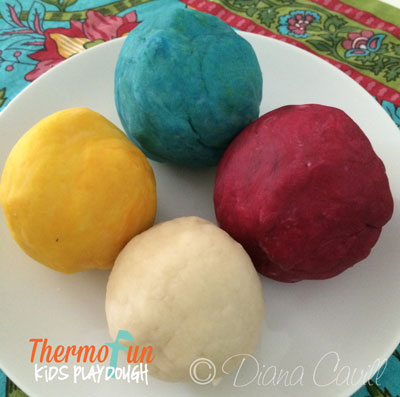 The Thermomix playdough recipe from the EDC has always been a little hit and miss for my liking especially when it comes to my 3 year old nephew – who just happens to know his playdough!
So after months of tweaking the thermomix playdough recipe and having it put through the kid test – we have a winner!  I must admit the feel of this playdough is nice and silky and smooth and I may have just played a little longer than normal at the playdough table with him!  Well what else does an Aunty do but spoil their nephew?!
I am not sure why I insist on making separate colours for him though, because after one session we do end up with a rainbow playdough!
Please keep away from pets as salt is very toxic to them.  
ThermoFun – Kids Everyday Essentials – Play Dough
Ingredients
320g boiling water from kettle
100g cooking salt
1 Tbsp cream of tartar
350g plain flour
15g coconut oil
food colouring to suit
Instructions
Place salt into TM bowl and mill

3 sec / speed 9

. Depending on the brand of salt you use you may need a little longer - you want it to look like a fine powder.
Add cream of tartar and water and heat

3 mins / 60°C / speed 3

.
Once finished, look to make sure that all the salt has been dissolved, give a little stir with the spatula and heat for a further

2 mins / 60°C / speed 3

.
Add flour and mix

20 - 40 secs / speed 3

or until well combined.
Add coconut oil, set dial to closed lid.

Interval speed 1 - 2 mins

- you are looking for small pebble like consistency.
I then like to add food colouring in a separate bowl and knead together as I find if I knead in the Thermomix it dries out too quickly - that being said wear some disposable gloves if you don't want rainbow hands!
Once kneaded to colour consistency you want, I tend to wrap mine in baking paper and then pop in a zip lock bag until delivery - where his Mum has a couple of playdough pots to put them in.
Notes
**** RECIPE UPDATED 28th OCTOBER 2014
Depending on brands of ingredients used you may need to add more flour. To get the consistency you are after, add additional tablespoons of flour one at a time through the MC hole. The texture can vary depending on the humidity in the air.
Store playdough in a plastic bag or container in the fridge.
If using blue food colouring for some reason this requires more flour!
Please keep away from pets as salt is very toxic to them.  

Click Here for more great recipes in a number of e-cookbooks – containing recipes to suit everyone.
If you have enjoyed this recipe then please consider leaving a comment.  It's always refreshing to see comments from people that have tried a recipe and found it a success or tweaked it to suit.