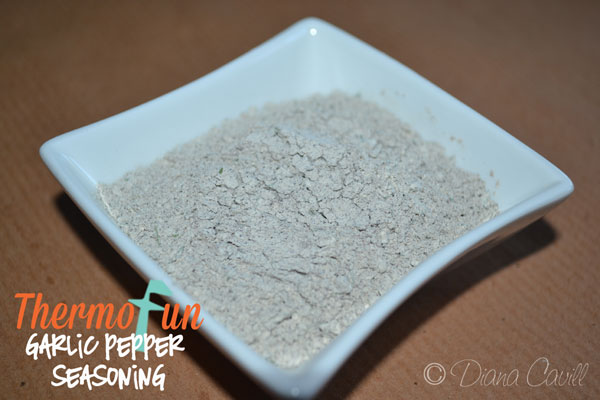 This is not a Thermomix recipe but it is a great recipe to be paired up with prawns, chicken, beef or vegetables!
For other great ThermoFun spice blends Click Here.
This seasoning would also be great for any shredded chicken or Varoma chicken dish too!
ThermoFun – Garlic Pepper Seasoning Recipe
Ingredients
8 tsp garlic powder
4½ tsp black pepper
1 Tbsp parsley flakes
Instructions
Place all ingredients in a small bowl and stir until well blended.
Store mixture in an airtight container.
Use for seasoning meats, grains and vegetables.
http://thermofun.com/thermofun-garlic-pepper-seasoning-recipe/
Copyright, Legal Notice and Disclaimer: Design, photography and text copyright © ThermoFun 2014-2018. Tips and tricks within are the work of the author or nominated parties who have no association with Vorwerk or Thermomix in Australia and therefore are not official, or have the approval of Vorwerk or Thermomix in Australia. None of the recipes that appear here are tested or approved by Thermomix Australia or Vorwerk. Any thoughts expressed on this site are the authors own and are not sponsored by products unless clearly stated. Any nutritional values published on this website are general indications only, for more definitive stats use the panels provided on your products.
If you have used this seasoning, what did you use it on and what did you think?  Let us know in the comments below.