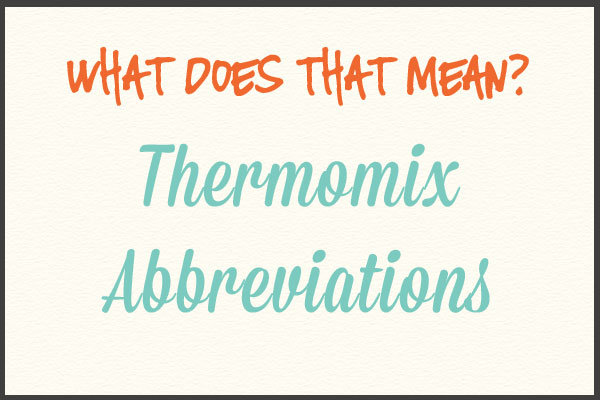 As we are all aware Thermomix can be known as having a language all of its own!
So just to make life a little easier for new owners – here is a list of the most commonly used acronyms.
BBL = Bowl, blade and lid set
BCB – Basic Cookbook (TM5)
DF = Dairy Free,
EDC = Every Day Cookbook (TM31)
GF = Gluten Free
MC = Measuring Cup
RC = Recipe Community
TM = Thermomix
TM21 = earlier model Thermomix
TM31 = previous model Thermomix
TM5 = current model Thermomix
TS = ThermoServer
TTS = Time Temperature Speed
FOOD:
ACV = Apple Cider Vinegar,
CADA = Coconut, Almonds, Dates, Apple
EVOO = Extra Virgin Olive Oil
S&P = Salt and Pepper
VSC = Vegetable Stock Concentrate
FOOD DIET TERMS:
FD = Fast Day
LCHF = Low Carb High Fat
NFD = Non Fast Day
WOE = Way of Eating
WOL = Way of Life
COOKBOOKS:
Devil = "Devil of a Cookbook"
EDC = "Every Day Cookbook" old and new
FF = "Festive Flavour" cookbook
FFS = "For Foods Sake" cookbook
KIS = "Keeping it Simple" cookbook
MOTM = "Meat on The Menu" cookbook
MWOC = "My Way of Cooking" cookbook
QFITT = "Quick Fix in the Thermomix" cookbook
TWTM = "Travelling with Thermomix" cookbook
If you have seen some common abbreviations used that aren't listed here, please let me know and I will add them. It's always nice to know what everyone is talking about.
For many more hints, tips, ideas and support why not join the ThermoFun Club!
Where you get a new recipe in your inbox every week for the Calendar year – that's a minimum 52 recipes!   (You will have access to all recipes already issued for the year no matter when you join).  ?
Plus you have FREE Access to over 50 documents containing meal ideas and more.
Be involved in Cook Alongs for ThermoFun members only.
Be in a private facebook group for ThermoFun members only.
Where do you sign up? Head to our Club Membership section and join today!
For more great tips and recipes on using your thermomix join our free monthly newsletter here:  ThermoFun Newsletter Subscription.