I don't think you can go past Nachos for a quick dinner, lunch, bbq, get together, pot luck – you get the idea 🙂 but when you get to replace the store bought items with freshly made produce – it takes eating to a whole new level! This thermomix spicy nachos, using my ThermoFun Taco Seasoning and my ThermoFun Salsa and adding a little jalapeño – you have a beautifully balanced spicy nachos mixture.  Perfect for those days/nights you want nachos but you want to kick it up a notch!  🙂
Quick cooking in our house is a must even with adult children as my life is so busy!  As most of you know, purchasing a Thermomix revolutionised my life and cooking and now when I sit down to anything I make, I still marvel at the thought that I am doing all this!  I am sure you would agree.  It really is exciting!  🙂
I must admit my taco seasoning is the go to item in the cupboard when I have to "whip something up" but when paired with my salsa it really is a wonderful "sauce" for some steamed chicken or mince, pasta and a little cream cheese.  My salsa and Taco seasoning is also great with either sour cream or cream cheese making an awesome dip too!  This type of "cooking" is what I love about my recipes – you make "basics" and you have 'go to' ingredients to whip up great recipes for your family and friends.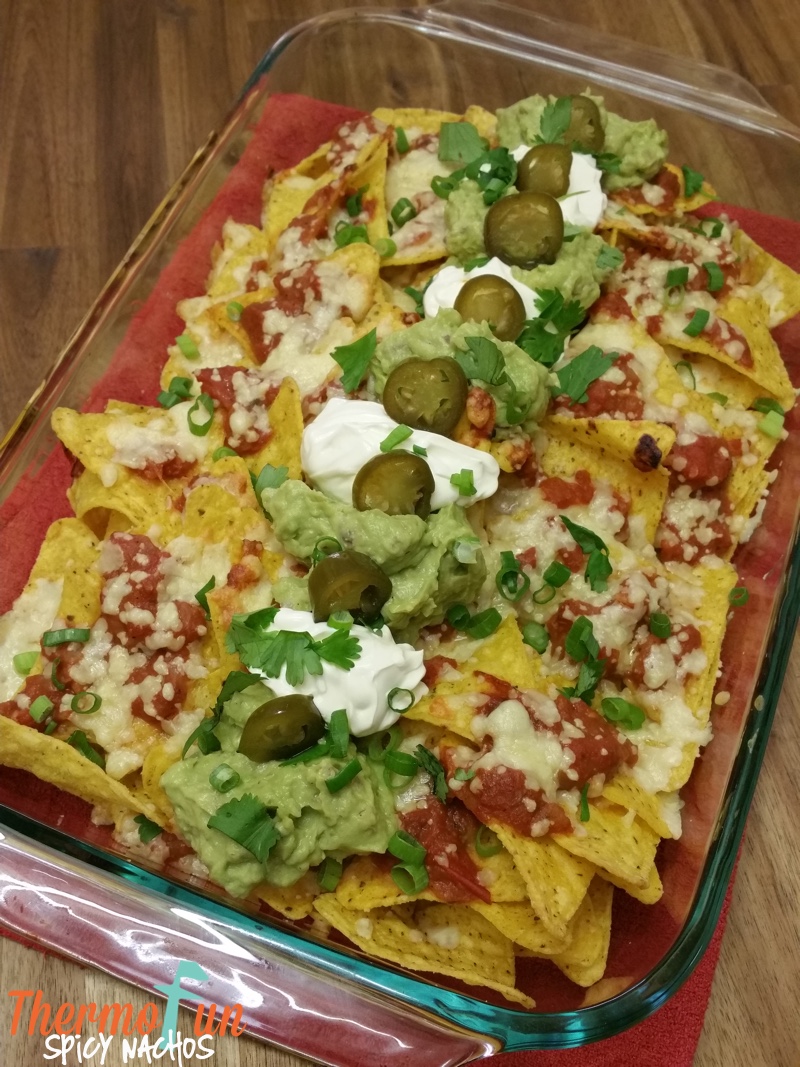 Ingredients
150g cheddar cheese, cubed
1 Tbsp ThermoFun Taco Seasoning
350g ThermoFun Salsa
200g plain corn chips
100g sour cream
2 avocados halved, stone removed, peeled
½ small red onion, peeled
2 Tbsp lime juice
salt and pepper to taste
handful fresh coriander leaves
optional: slices of pickled jalapeno chillies
Instructions
Place cheese in TM bowl and grate

10 sec / speed 10

. Set aside.
No need to wash TM bowl.
Make ThermoFun Salsa. Set aside.
Make ThermoFun Taco Seasoning and add 1 Tbsp to Salsa and set aside. Store remaining Taco Seasoning mix in an airtight container.
Preheat oven

180°C

. Arrange corn chips over the base of a shallow ovenproof dish.
Dollop salsa over chips and top with cheese. Repeat another layer if making for a few people.
Bake in oven

15 mins

.
Avocado Dressing:

Place avocado, onion, lime juice, salt and pepper in TM bowl and combine

5 sec / speed 5

.
To serve, dollop the avocado dressing and sour cream on top of nachos and garnish with coriander and optional jalapeno chillies.
http://thermofun.com/spicy-nachos/
Copyright, Legal Notice and Disclaimer: Design, photography and text copyright © ThermoFun 2014-2017. Tips and tricks within are the work of the author or nominated parties who have no association with Vorwerk or Thermomix in Australia and therefore are not official, or have the approval of Vorwerk or Thermomix in Australia. None of the recipes that appear here are tested or approved by Thermomix Australia or Vorwerk. Any thoughts expressed on this site are the authors own and are not sponsored by products unless clearly stated. Any nutritional values published on this website are general indications only, for more definitive stats use the panels provided on your products.
For more decadent recipes delivered to your inbox every Monday make sure you become a ThermoFun Club Member.
Click Here for more great recipes in a number of e-cookbooks – containing recipes to suit everyone.
If you have enjoyed this recipe then please consider leaving a comment.  It's always refreshing to see comments from people that have tried a recipe and found it a success or tweaked it to suit.